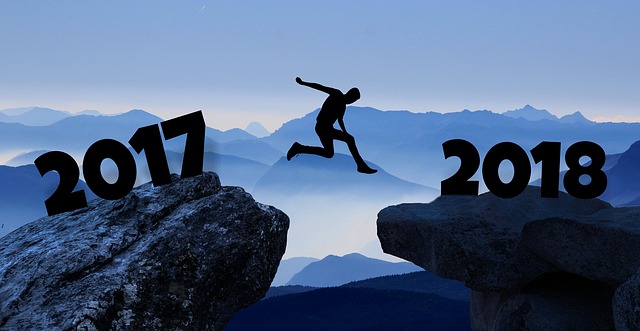 The 2018 New Year's message
2017 was again a significant year. Where it became clear, that Asia is taking more lead in the world progress of industry, human rights and prosperity, we can observe Europe more and more degrading to a museum style continent. One day, the Chinese will no longer travel to Europe to snap right and left items to copy and produce at home, but they will come to talk about how things used to be, in and on the great continent of Europe.
Europe has fallen into four sections, and although still attached with strong ropes or weak threads, we can observe the split off of the eastern countries, all ahead lead by Hungary. These countries know, and have experience how it is to live under a doctrine, an all controlling ideology, be it religious or not, so with the present threat of Islam, and its third attempt to conquer Europe, (refer to article), they have started to stand against the already mutated EU and its policies. The too fast expanding EU with its Euro, is slowly on the way to break the necks of the un-proportionally few contributing countries; UK has wisely made the step to withdraw, which will place more toll on Germany and The Netherlands. Millions of so called refugees, mainly not from Syria, are costing the states billions of Euros, with nobody questioning, where all the funds are coming from. Instead of talking about, how to close borders, and sending back the ones inside, the main stream politics, talk about integration; an integration illusion of people who can't and don't want to integrate; all at the expense of the population and the well needed and friendly minded immigrants from Asia i.e., people who don't want to change the system. Instead of sending the refugees home, where it's now high time to rebuild the country, the coward men, who came without their families, are now demonstrating that they miss their families. We must ask, why they left them behind in the first place. And the children, who were sent to Europe, now crying that they need their parents, are now calling for their parents to come. Europe is blind and helpless in all its standard, just like the old Romans before, where a simple Trojan horse dismantled the system from inside. All illegal migrants, from mainly non Syrian countries, know how to press the tear button on European people, and the politics play with the guilt riddled nations.
But there is positive news. Parties like the Dutch PVV, have risen, and we should think about the word mainstream. How come, that all parties who have received less votes in the 2017 Dutch election still call themselves mainstream, and the PVV extreme right? The PVV is the party receiving enough votes to be the largest opposition party today. In Germany, one fifth of the voters chose AfD (Alternative for Germany), forming again, the largest opposition party in parliament, and leaving the old CDU party with Angela Merkel with huge losses, and the social democrats with the worse result since decades, and no formation of a stable new government in sight. Fact is, with all tried attempts, freedom and culture cannot be erased.
For the LGBT community in Europe, it has been a year of support and threat at the same time. In Germany, marriage equality was installed, where on the other side, the rise of Islam has made many areas danger zones for openly living gays, transgender and lesbians. Attack rates have risen. The Left and Green parties, who traditionally support the LGBT community, by now also supporting Islam, have created the biggest clash ever. The idea, that in a street of neighbours, one neighbour can be a gay couple, maybe with adopted children, and the other a religious Muslim family, followed by a Jewish family, all together in happiness and peace and full acceptance, is so much of an illusion, that there can be only two conclusions. Either the leftists are blind or innocently stupid, or it is their intention to destroy the present system, in falsely supporting women rights, LGBT rights and human rights in general, to later, after some generations, install a socialist / religious dictate. It is clear that religion and politics have and will continue to work together as much as they can, as politics reaches to our door step, but religion into our bedrooms. A religious society is easier to handle than a non-religious one. And then we have the Humanist societies, they have completely derailed. Instead of caring for the own people of the country, they care for the illegal, call people racist whilst religion is not race related, bond with the left and bring in idiotic ideas that will not stand a generation anyway. Child poverty in western countries, old people care in Europe and the decline of industry that would provide jobs; all is nearly ignored in all they do. Instead, they fill their pockets with huge salaries, tapping from a system, which is already bleeding to death. This will not help the national's children, elderly, unemployed, LGBT community and the non-religious people. One big question mark arises: Why are non-religious organisation in support and favour of a religion that is even more than that; a political ideology which poses the highest threat for children, women and the LGBT's?
Let me close this New Year's message with the most hypocrite statements of the year end:
Angela Merkel:
"My wishes for the New Year are for us to become aware again of that which holds us together at heart; that we focus again on what we have in common; and for us to strive to have more consideration for others. I mean consideration in the broadest sense: paying attention, truly listening and showing understanding for others."
This message clearly excludes all European people, especially all German people. Germany has not seen any heart from Angela Merkel, no focus on what Germans or Europeans have in common, and no true listening and understanding what the nationals want and need. The focus clearly lies on the abolishment and replacement of the nation, rather on its preservation and development!
Let's listen to Victor Orban from Hungary:
"Europe's immune system is being deliberately weakened. They want us to stop being who we are. They want us to become those who we don't want to be. They want us to mix with people from another world and to change in order to make it trouble-free. We can clearly see the attacks against our culture, the attempts to dissolve Europe. They want to take away our own life and change it to something which is not our life."
I wish everyone a 2018 with health and strength, but most of all with a critical mind. People have to ask more questions, rather than to accept. People should flood the streets with protest, rather than remain silent. Things will not just become good, if we leave things as they are. Too long has politics and religion rested on peoples un-confrontational up to ignorant or apathetic stance.
Just put yourself into the shoes of the other, and see if your ideas would also fit there.
A Muslim mayor in Europe – A non-religious mayor in Iran?
Child marriage in Europe – Same sex marriage in Saudi Arabia?
Criticise Christianity in Europe – Criticise Islam in UE?
It's time to wake up!
By Thomas Fleckner