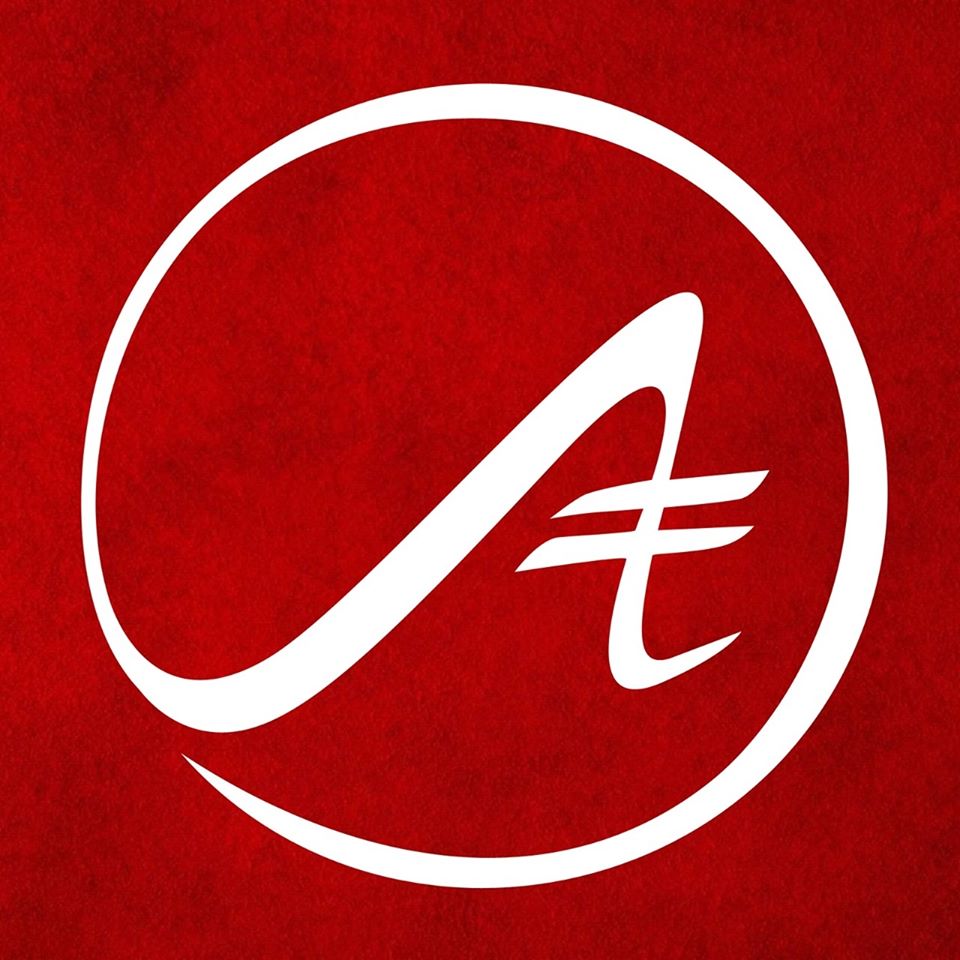 The NEW PATAS Year End Party 2019
Since the old Philippine Atheist Group, under the name PATAS was dissolved roughly two years ago, a new Atheists and Agnostics group has been launched and SEC registered. The name of the group is PATAS Inc. (Philippine Atheists, Agnostics and Secularists Inc.)
December 28 was the day to mark its Year End Party and discuss little about the achievements made, but to share music and to meet new and old peoples around the society. The Conspiracy Garden Bar has become a traditional meeting point for non-religious events in the Metro.
Many new and young faces could be spotted at this event, and it seems that more and more people find their path to Atheism and Agnosticism in The Philippines.
PATAS had a broad selection of merchandise, like T-Shirts, mugs, stickers etc.Memberships are now also offered and potential and past donors locally till Germany have made it possible that the New PATAS Inc was able to launch in full blossom, presenting itself, not only on Facebook, but with its own web site: www.patasinc.org
This was the program that was followed:
5PM - Opening by John Eric Santos
5:30 PM - Quantum Noise Performance
6:00 PM - JE Talk
7:00 PM - First band
7:30 PM - Second band
8:00 PM - Third Band
8:30 PM - Fourth Band
9:00 PM - Fifth Band
9:30 PM - Sixth Band
10:00 PM - Seventh Band
10:30 PM - Eight Band
11:00 PM - 9th Band
11:30 PM - 10th band
12:00 Midnight: Awarding
12:30 AM: Closing by JE John Eric Santos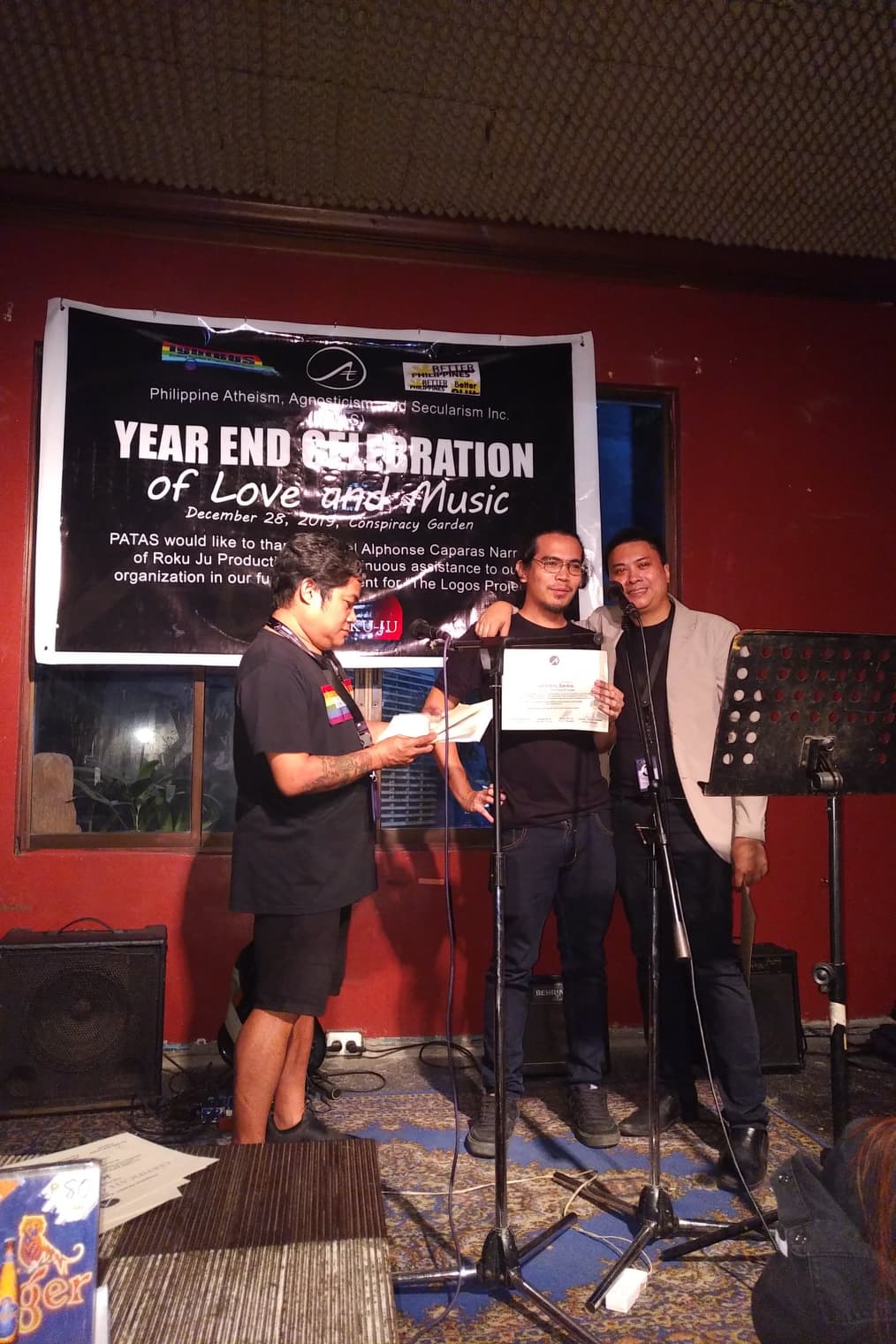 (Rewarding of the Host "John Eric Santos")
The following statement was taken from the PATAS Inc. Facebook group:
"PATAS would like to thank Sir Riel Alphonse Caparas Narrajos of RoKu-Ju Productions for helping us organize our Year-End Party that will be held on the 28th of December 2019,Saturday 5pm onwards at Conspiracy Bar Visayas Avenue .
Confirmed Bands are Jarred Trio ,Quantum Noise, Year of the Underdog,Eskinita Band and Stephen Jullar."
Thomas Fleckner (Former lead officer of the dissolved PATAS) would like to thank the New PATAS for letting him talk on behalf of Atheism.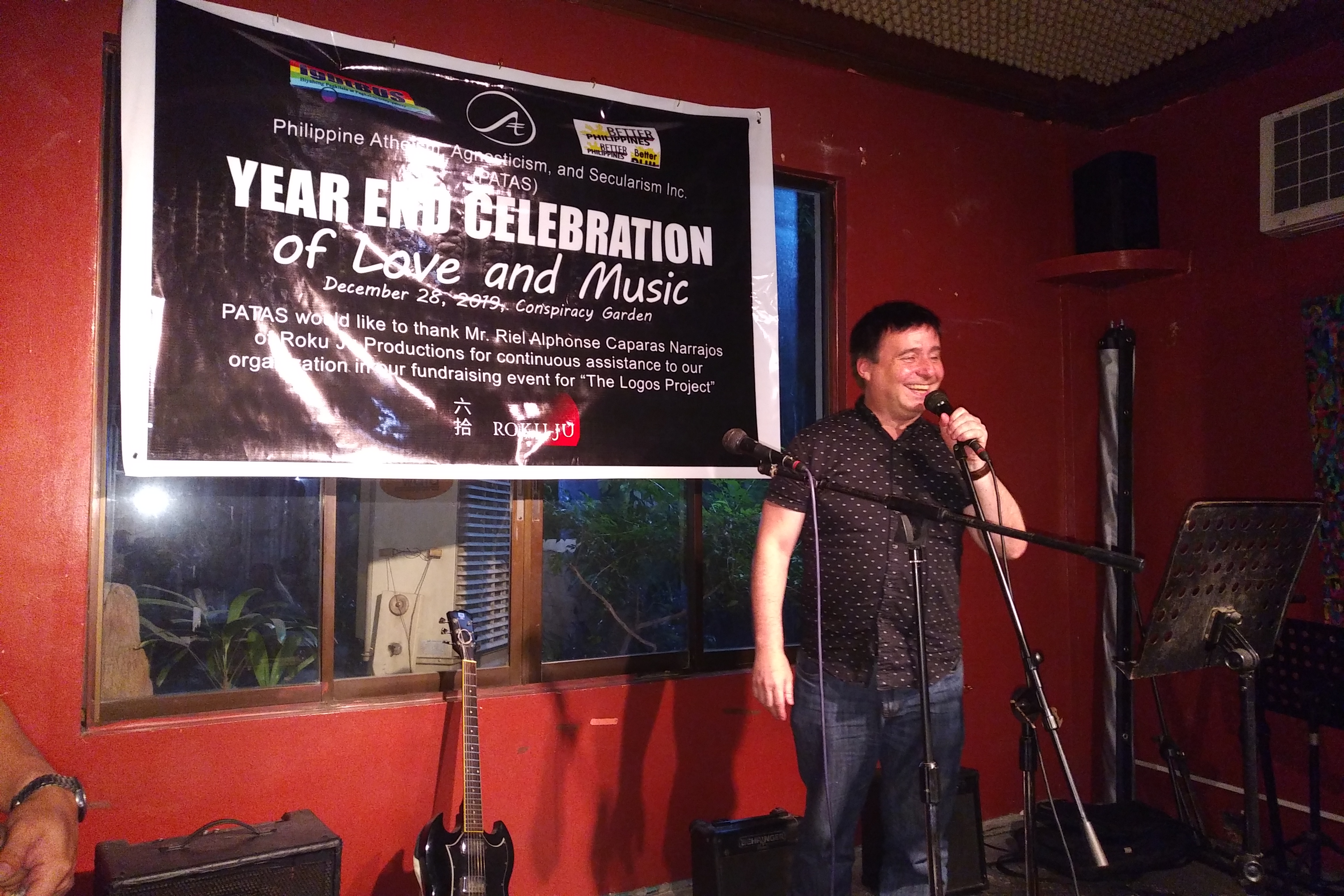 By i-Arose