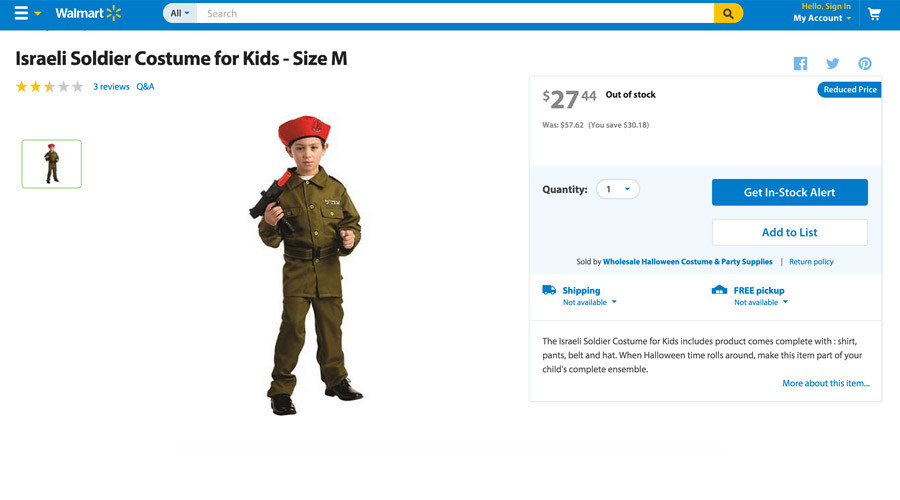 Ahead of the American Halloween, retail giant Walmart had to react to the growing criticism from Muslim and ethnic Arab US citizens, due to its offer of an IDF costume. The IDF is the Israel Defense Force, and their typical clothing consists of olive pants, a shirt of the same color and a red beret. For the Halloween festival Walmart had now such a costume for children on offer.
Arab and Muslim organizations in the US have criticized the selling the IDF uniform. "The costumes are very problematic and offend many people," said Samer Khalaf, Chairman of the American-Arab Anti-Discrimination Committee.
Again we find Muslims being offended, and acting out to the limit to stop what they dont like. It's like the entire world has to listen to them. Who cares about the christians being mocked for example. Many also dont like it but no threats or worse will happen.
Other providers such as Amazon and eBay had deleted the product from their websites, after Arab organizations had exerted great pressure on the Management Committees. So it didnt even reach the courts. Islamic bodies can just put pressure and people listen and jump. The West is more and more forgetting about their values when doing this.
What one person finds funny, the other finds distasteful. And? Such is life in a democratic state. Deal with that! Nobody forces you to buy the product, but do not prevent others from buying it!