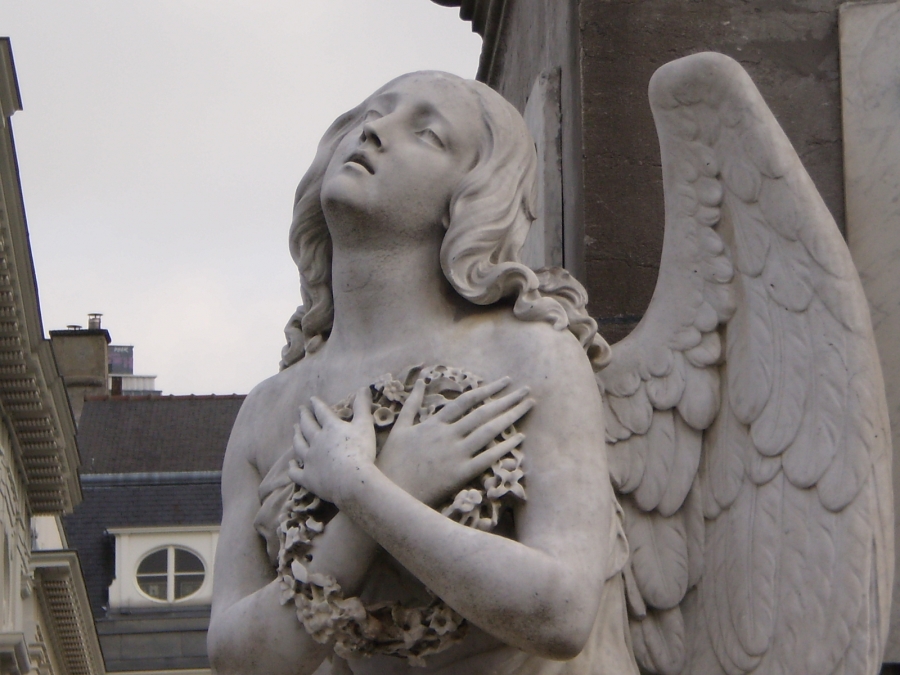 Its all about power, control and money; those are the first three things that come to my mind at first thought. It then reduces to delusion, geographical location and that politics love it, as they can only reach to your front door, yet religion sneaks into your bedroom; the big brother telling you how and when and what to do; what not to do and what the consequences are.
"Created sick, and ordered to become well.", as Christopher Hitches rightfully pointed out.
As long as we are afraid of the dark, the invisible and death, religious vocabulary gains power over us, through their world view and rule, represented by the unexplainable, sin, hell or heaven, faith instead of knowledge, the devil, angels and demons, spirits, souls and ghosts. What a spectacular fairy tale; yes it was 2000 years ago. But life goes on, science has closed more and more gaps, secularism as a system of a self defined life, through the separation of state and religion.
We talk and argue, we go deeper and absurder in our arguments. Homosexuality is the cause for earthquakes and the extinction of mankind. Wow, how much power do the religious give to a minority that they claim life unworthy. If their god would be so powerful and perfect, he could have just not made man with a homosexual minority, and in more than 1500 species the same natural fact. He claims to be able to regulate all, but he cant defeat the devil. And of course he can't, because religion as well as politics need an enemy. If he would kill the devil, there is no need for a heaven. And of course again, he can't kill the devil, as neither he nor the devil exists.
Basically we don't need to be theologists or scientists to bring the argument of the fact to the base. Just ask yourself: "Did you choose your religion, after being born? Or: "Why are there so many religions, but just one mathematic?"
And all these religions, contradict each other. All have their own claims about the world, their own myths, wonders, predictions, rules, gods and practices. So again you may ask yourself: "How big is the chance that one maybe correct?" Maybe 0.1%? If so, why is that religion and its god not capable of coming here to clear the mess? Well he cant, cause he doesn't exist. And if he would exist, observing the blood shed people do for him or his other fellow gods, he could be called sadistic or evil. If he can't intervene, he is incapable, handicap or of low life; how could that type of god be called almighty? And further, just looking at monotheism; even those three mainstream religions are not agreeing on terms. Christians, Muslims and Jews are split again into different sects and denominations, with their own interpretations and rules and rites, pointing at each other of being wrong.
Truth is an easy fact. Despite being a Christian, a Muslim or a Jew, never accepting each others arguments, and stating that Atheists are evil; when it comes to physics or mathematics, suddenly all of them can agree. All of them will insist on evidence, trial and conclusion. 2 + 2 will result in the same result for a Christian as for a Muslim a Jew or an Atheist.
Now that we are going global, we can see and agree on this more and more. Already the third largest group in the world, after Christians followed by Muslims, are the non religious people. Education and exchange through the Internet and travel have and are education more and more humans. Religious spirituality has less space in the brain of the educated and enlightened, hence, not like the situation in medieval times, where the majority was uneducated and religion took the first attempt to explain the world, set ruled and fears to keep people where they wanted the to be; suppressed, fearful and obeying.
We can further observe, that religion takes away peoples self defined life. In short, they make people life their life, and not their own.
The expression: "I am a Christian" or "I am a Muslim", seem often more important than saying "I am I"
Religions are authoritarian hierarchies to bring down "free will", letting people believe, that basically, even if they think they have chosen, it was already gods will, or ones life is even pre-paved, turning a hundreds and thousands year old species, equipped with intelligence, into a sheep. How bigger such insult towards integrity could be? This social conditioning leads to a blind trust, hence faith into something that is just and only based on a scripture. All exercises, as kneeling down and bowing down are set to make the person feel small and nearly worthless; underlined with the words "Lord" or "Father" or "Saviour"; a helpless daily cry towards something to save someone from what ever we dont even need to be saved for.
Religion is the systematic marketing of fear, and there is a lot to fear in religion. The fear for a god, the fear of being different, the fear of having own thoughts, the fear of consequences when masturbating or having sex that is not appropriate according to their teachings, the fear of hell, the fear of a devil, demons or spirits, the fear of a trapped soul and the fear of being sinful. At what price? At the price of a promised heaven, where nobody has traveled, nobody has seen and no documentary is available.
Faith is the cowards substitute for courage.
No god will punish anybody, who doesn't pray to him or who doesn't pray correctly. People punish people in the name of such a deity; thats basically all.
By Thomas Fleckner