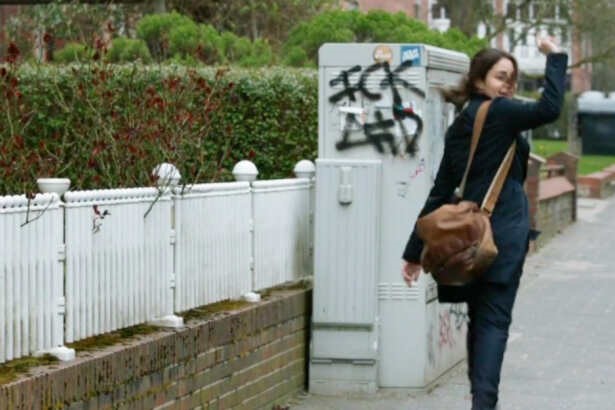 There is a new Leftist campaign; discreetly wanted but stupidly open
Most people who oppose the so-called main stream are discriminated against by the latter; portrayed as pub-level talkers, stupid and Nazis, when no arguments bare fruits.
The primitive attitude and non-understanding about democracy has yet slipped further down. The new slogan is Germany is FCK AFD, which means translated "Fuck the AfD Party". The AfD (Alternative for Germany) is a democratically elected party, based on the constitution of the Federal Republic. Everybody understand that this is kind of low life, and especially for ones that claim the AfD has not politics and no arguments, it just opposes without a program. It is easy to prove the opposite. The AfD is full of doctorates, hard workers from different occupational backgrounds and academics, whilst the Green party i.e. is pathed with school dropouts even.
The German state TV ARD has also used that primitive propaganda in their series. The series "Tatort", a criminology TV show, showed the slogan FCK AFD within a scene.
The ARD does not admit the purposely placed graffiti.  (Source: truth23.net)
When criticizing the EU, Islam or even the Left, one can be banned from Facebook or Twitter. Attacking the democratically elected AfD leads to… Nothing!
Here an example of a Facebook page still operating openly and in full hate:
https://www.facebook.com/pages/category/App-Page/Fck-AfD-259230874770893/
In reaction to all the hate and propaganda against democracy, the AfD has taken counter measures, asking pupils to openly expose teachers spreading hate against the AfD. Neutral Schools, an online portal was published as a project in Hamburg and the AfD has announced plans to do more across the country. Pupils are invited to post anonymous complaints on the site about teachers they believe are breaking neutrality rules.
Many individuals have also followed the FCK AFD campaign, sinking far and low in life. It seems that in Germany the understanding of democracy, how it works and how it should be respected is far from being known in the country. No wonder, with a chancellor sitting around for nearly 16 years, and a tendentious press, people find mainstreaming normal it seems. Also that the AfD is compared to Nazis is a shame on German peoples educational level. Here an example: http://hamburgrecords.com/keinbockaufnazis/kban-fck-afd-shirt.html
Spotify has allowed a song to be placed in its platform; with the ever so intelligent title FCK AFD: https://open.spotify.com/album/6F3WetM9FOhgE5jEvHIJW4
Der Linke Fanshop is a German sounding shop based in UK. Meaning they criticize a German party from out the UK. Here is the link: https://shop.spreadshirt.co.uk/DerLinke/fck+afd-A112248235?size=29
They do propagate Karl Marx, and the owner is listed in Germany. Why then a British shop?
Another shop sells the anti German propaganda from the USA and Australia. Here the link: https://www.redbubble.com/shop/fck+afd
Many private people have also been following the trend. Worse is yet, that another political party has been using the FCK AFD slogan. The German Party "Die Linke". This was recorded in the German city of Wolfenbuettel in 2017. The statement from the party was, that the missing U is just something associated in peoples head. So basically they are saying FCKL AFD doesn't mean FUCK AFD. How stupid do they think people are?
26.08.2017 Foto was made by a private person
What does the AfD do that people hate so much? It wants to defend its country, its people and its culture; its sovereignty, its identity and its values.
What does the left and so-called main stream want? The destruction of the above and the replacement of the German and European population with a religious, patriotic, homophobe and non-democratic society.
A religious society is easier to rule than a non-religious one!
By the way, religion is about belief and not about knowledge, right? The Greens are on their best way of following just that. They want you to believe them, not know them: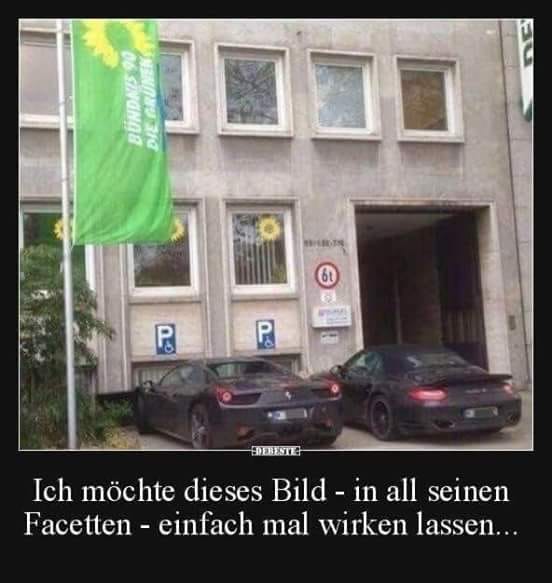 Picture in front of a Green Party office.
By Thomas Fleckner