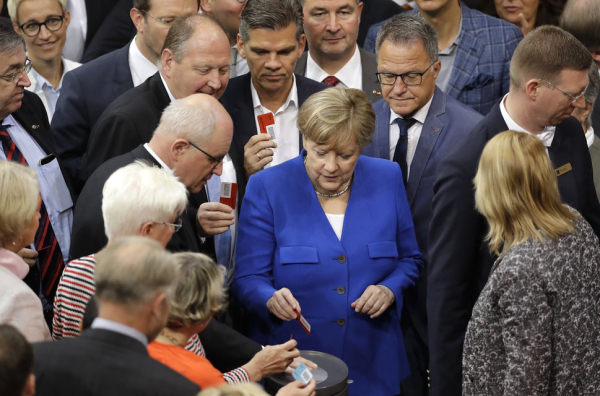 The German problem with the new "Marriage for all" agreement
The German national elections are on the door step, ahead of power hungry Merkels wish to run for a fourth term in the office of a chancellor. She has already forgotten about the fact, that Germany has a parliamentary democracy, not a chancellor democracy, or better and chancellor dictate without voice. Why without voice? Merkel has no personality, no real ideology; the only thing she follows is her lust for power, the will to form a one party like parliament, where it doesn't matter what party you vote for, as voting for her CDU has already most positions of the Left, Liberals and Greens embraced. Her open border politics is one of the tools to ensure her seat and maybe of the one that will follow her one day. Locals don't see the danger behind a rise in Islam and religious people are more easy to manipulate than intelligent freethinking ones. Islam means 'submission', and that's what she likes to see most; uncritical and submitting silent people. The new law challenging freedom of speech and expression, fining social media companies for not removing certain posts within 24 hours with 50 million Euro, is one of her censoring steps succeeded. But what is hate speech? What is hate speech for her her government, may be opinion for others. Facebook operates international; so what applies in Germany, may long not apply in Hungary i.e.; a sign that Merkel again wants to control Europe in her interest, rather than only Germany, and worse, as she is neither right, left, liberal or green, most others agree. No opposition; no alternative; she made it that way.
She still knows that she has to win the upcoming election, and she knows that the 'marriage for all' law is on the agenda of the left, the liberals and the greens. As again, as she already has embraced most stances to stay in power, for her to win with the highest possible percentage, she has to suddenly agree on what her opposition wants, and is fighting for on the election agenda. When she called for a open voting in parliament, she was able to comfortably vote against it, as she knew it would find a majority vote anyway. So she didn't lose her face and yet took an important point from the oppositions. So now they have to wipe it from their election agenda as Merkels government made it a law to pass.
The sad thing is, the German people will fall for it and guarantee her win. The danger of Islam, the strength of the EU dictate, the loss of freedom of expression due to social media control of posts. People don't see it. People are made blind by her 'non confronting','all pleasing',and 'all-embracing' tactic. The equal rights achieved for a short present time, will all be reversed and destroyed soon, when the exchange of population and rise of Islam will continue as it is. And this is one of the dangerous sides of the new law, cause we have to ask: What is marriage for all? We have to look decades ahead and realise that this is a door opener for the support of Islam. Marriage for all means on the longer run that support for polygamy, the favourite Muslim marriage formation and even child marriage, something the Green Party supports in parts, and again Islam supports. With all parties Merkels CDU can form a coalition, now even more, and on the other hand, the more irrelevant those parties become. Islamic 'migrants' often come with several wives, ad all will have the same right for social welfare support, as the national 'one wife' unions; with one important difference, that all those streaming in groups have never paid into the system and most likely will never do.
Merkels liberal face is fake, as it aims for short term satisfaction for a long time goal; and that goal is not democratic, not freedom loving, not secular and not identity and culture preserving!
By Thomas Fleckner