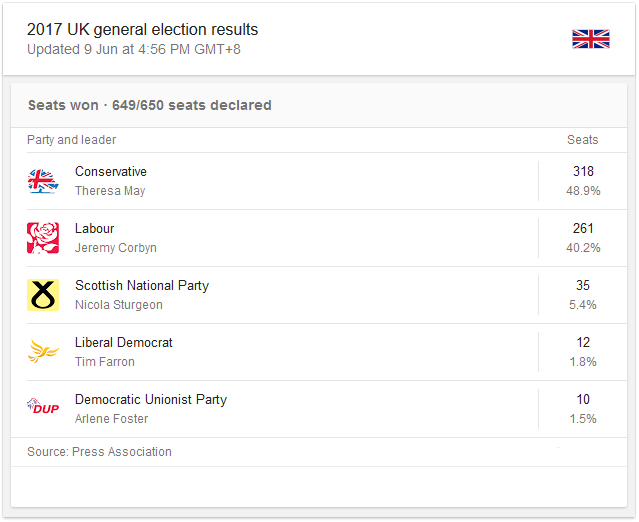 UK elections - an analysis
Mrs May said: "At this time, more than anything else, this country needs a period of stability."
Further she communicated:
"If, as the indications have shown and if this is correct, the Conservative Party has won the most seats and probably the most votes, then it will be incumbent on us to ensure that we have that period of stability and that is exactly what we will do."
UK has voted for a hung parliament, yet leaving the Conservatives with a lead, but not the needed majority to run the parliament by itself. It will need to for a coalition.
With this outcome, its time to analyse, next to awaiting the outcome of the new government forming.
Labour, and specially Mr Corbyn is bragging with the outcome of the election. We must not forget, even though Labour won a certain percentage, it didn't reach the aimed goal of becoming the new leaders, so the call for Mrs May to step down, trumpeted by the Labour leader, should also stand for him.
Speaking on Friday morning, Jeremy Corbyn said the face of British politics has changed: "Politics has changed. Politics isn't going back into the box where it was before. What's happened is people have said they've had quite enough of austerity politics."
Typical leftist stance, as proven throughout, they only know how to spend and spend public money, without real equations on how to earn the amounts spent, punishing and disregarding the private sector, that is keeping the economy up and employing people. Taxes are paid by businesses and employees. Labour even wants to de-privatize the railway; we can imagine how unrealistic unproductive such a step would be. The best running businesses are not in the hands of the state, but run by the private sector!
There are more points of relief that Labour didn't win the race, as Jeremy Corbyn has so many unpleasant characteristics endangering freedom, democracy and the wealth and health of the United Kingdom.
- Supported the IRA:During the 1980s and 1990s, Jeremy Corbyn supported the IRA and opposed the Northern Ireland peace process.
- For the Iranian religious right: Jeremy Corbyn has been paid £20,000 to appear five times on the totalitarian Iranian regime's propaganda channel, which was banned in the UK for its role in filming the tortured and  forced confession of the Iranian liberal journalist Maziar Bahari. Iranian democracy campaigner Maziar Bahari's own thoughts on Corbyn, who he describes as 'a useful idiot', and goes on to say: "People who present programs for Press TV and get paid for it should be really ashamed of themselves — especially if they call themselves liberals and people who are interested in human rights."
The Iranian regime executes gay people, democracy activists, Kurds, and orders the rape of female prisoners.
- For anti-Semites: Jeremy Corbyn has praised and supported Raed Salah, an Islamist who has been accused of spreading the Blood Libel (an old antisemitic conspiracy that Jews use the blood of gentile children to make their bread). Salah has also been charged with inciting racial hatred and violence, and has claimed the Jews were behind 9/11. Corbyn has said: 'Salah is a very honoured citizen', 'Salah's is a voice that must be heard', 'Salah is far from a dangerous man', and 'I look forward to giving you tea on the terrace because you deserve it!'.
Corbyn wrote in defence of a vicar who suggested that 9/11 was an inside job by the Jews.
- More state and higher taxes: High taxes kill enterprise, drive away investment and destroy jobs. That nationalising industries guarantees chaos and nationwide shut downs, would show when Corbyn and the unions puppet-masters reclaim the powers Maggie Thatcher took from Labour.
More here: http://beforeitsnews.com/eu/2017/06/dote-vote-labour-corbyn-will-destroy-britain-2624833.html

The most dangerous move of Labour is its support of Islam within politics. Britain's Labour party encouraged Muslim voters to "play the system" by voting for Labour and backing its leader, Jeremy Corbyn.
According to the Guido Fawks website, Labour party sent out a text message Thursday in West Midlands county saying: "PASS ON TO ALL OF YOUR CONTACTS! Labour with Jeremy Corbyn is the only choice we have in this election." Further: "He has opposed wars in the Middle East, had lobbied for the Palestinians and even vowed to recognise Palestine immediately after he is elected." And "Who else has promised us this? For those of you who do not believe in voting, how are you going to change the system if you don't play by the system. Other minorities have a greater say in the country than we do even though we are one of the biggest minorities in the UK."
The message accused the Conservative party of using the terrorist attacks in Manchester and London to target Muslim communities and stir up "Islamophobia." (again here the invented term Islamophobia)
"They will bring in policies that will negatively impact our youth," the message continued. "We all need to come together to vote May out."
Source: (http://dailycaller.com/2017/06/08/uk-labour-party-wants-muslim-voters-to-play-the-system-in-election/)
A Labour MP has said a long-awaited government inquiry into Britain's sharia courts is 'Islamophobic' and should be dropped, proposing the religious legal system should be offered state 'support'.  More here: http://www.breitbart.com/london/2016/11/01/labour-mp-support-sharia-courts-scrap-racist-government-inquiry/

Back to the elections: Main gains have been achieved by a voters shift from the SNP to Labour. Why? Because the SNP was strong when they were rallying for independence from Britain, to remain in the EU after Brexit. This goal has not been reached, and with many overlapping with labour, people may have thought, that a vote for Labour could do more nation wide, rather than sticking with the SNP.
UKIP has also reached its goal after Brexit was achieved, so now we will most likely see the Conservatives collaborate with the DUP. (Link: http://www.bbc.com/news/election-2017-40219030)
"The DUP is socially conservative and enthusiastically pro-Brexit - and could also press for a boost to public spending in Northern Ireland. Party sources said they were in regular contact with the Conservatives." (Source: The Guardian)
Now some people, also from the Conservatives may say, that the DUP is against same sex marriage and abortion. Well that's maybe not idea; but shouldn't the present situation set priorities? And those for sure are not the latter, but a pressing urge to solve Brexit and the problems with Islamic terror! (More about the DUP: http://www.bbc.com/news/election-2017-40217141)
People who have no longer voted for the Conservatives, may also be a result of Theresa May's aim to gain more power and therefore being able to rule stronger . Having this said, again, the Conservatives were not trashed, as they still reached first place, but maybe weakened, to be forced to form a coalition to make democracy work better.
The question will be what role the Liberal Democrats will play in the coalition talks and the forming of a new parliament.
It was the prime minister Theresa May who called for a snap election, but even with this unwanted outcome for her, Mrs May will continue to reflect strength and stability for the UK, but will basically just be forced to agree on certain terms with her coalition partners.
Finally; could Britain be forced to have another general election? If any proposed new government fails to gain a majority of support in the House of Commons, the UK would be forced to have another general election. This would probably be held sometime in August. On six occasions this already happened: In January and December 1910, 1923, 1929, February 1974, and 2010, a general election failed to produce a victory for one single party. On five of these occasions, a minority government was formed. The exception was the Conservative-Lib Dem coalition that took office in 2010.
By Thomas Fleckner
Appendix:
June 8, 2017, election results news
http://www.telegraph.co.uk/news/general-election-results-2017-maps-breakdown/
http://www.telegraph.co.uk/news/2017/06/09/general-election-results-live-hung-parliament-theresa-mays-disastrous/