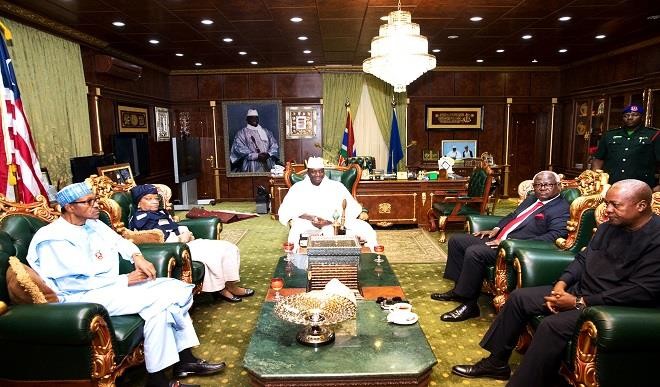 Image: Reuters
President Jammeh of The Gambia U-Turns
It has been to easy, it seems, to have observed President Jammeh of The Gambia accepting his defeat. I bitter taste said: There might be something cooking.
And yes, after a week came the flip flop.
After a correction made by the IEC, the lead of re-elected President Adama Barrow shrunk to less than 20000 votes; but yet, still enough to win the election.
Gambia's security forces entered the Independent Electoral Commission building on Tuesday the 13th during morning, and instructed its chairman to leave and have since stopped other employees from entering. The IEC chairman Alieu Momarr Njai told Reuters:
"The military came to my office and said I am not to touch anything and told me to leave," he said. "I am worried for my safety."
Also on Tuesday the 13th, four African leaders, Nigerian President Muhammadu Buhari, Liberian president Ellen Johnson Sirleaf, Sierra Leone President Ernest Bai Koroma and Ghanaian President John Mahama came to Gambia to speak to President Jammeh. Mr Adama Barrow, who has urged Mr Jammeh to step down immediately, has voiced fears for his own safety as long as Mr Jammeh remains in charge.
The meeting ended with a fail to convince Jammeh to step down. (Remark: The image shows only President Jammeh smiling.)
"It is not time for a deal. It is not something that can happen in one day. It is something that we have to work on," said Liberian President Ellen Johnson Sirleaf, who led the ECOWAS delegation.
ECOWAS president Marcel Alain de Souza warned on Tuesday that military intervention could be considered, if President elect Adama Barrow would be hindered to take over office.
Head of the present president's Party, the Alliance for Patriotic Reorientation and Construction, has filed a petition with Gambia's Supreme Court, demanding a fresh vote with a re-validated voter registry.
Adama Barrow has denounced Jammeh's rejection of the vote results, saying the president lacks the constitutional authority to call for a new vote or to invalidate the election.
Jammeh took over the reins of power in 1994 through a bloodless coup d'etat which removed Dawda Jawara from office. Jammeh has been in office for 22 years after winning three separate elections. His iron fist rule, and dictate like leadership, has resulted in many killing, arrests and fear in the small country. Many Gambians live in exile, waiting for the day to return.
Marcel de Souza, president of the Economic Community of West African States (Ecowas) commission told RFI that the organisation favoured "preventative diplomacy", and this was the thinking behind the visit of the regional leaders to The Gambia.
Now, military intervention in The Gambia is conceivable if President Jammeh does not step down, the president of the West African states group told French radio.
Asked to clarify if this meant military intervention, Mr de Souza said:
"We have done it in the past. We currently have troops in Guinea-Bissau with the ECOMIB mission. We have had troops in Mali. And therefore it is a conceivable solution." (Source: BBC)
Adama Barrow wants to lead a three year transitional government, and implement changes for the country, like reducing the high unemployment rate, specially youth unemployment. He also promised to reform security forces, suggesting that they should be "distanced from politics".
Karamba Touray, a spokesman for Barrow's UPD, said he would "stop plans to leave the ICC and ask to rejoin the Commonwealth immediately". He also said he would annul Jammeh's declaration of Gambia as an Islamic republic in December last year.
"He wants Gambia to remain a secular state and respect the rights of all the people."
Gambian leader Yahya Jammeh, who once vowed to rule the tiny West African nation for "a billion years", using a mindset of divine support in his aims, may now be facing his end, for the sake of humanity and the citizens of The Gambia.
After the elections Gambians shouted: "We are free. We won't be slaves of anyone."
May there wish be granted!

By Thomas Fleckner