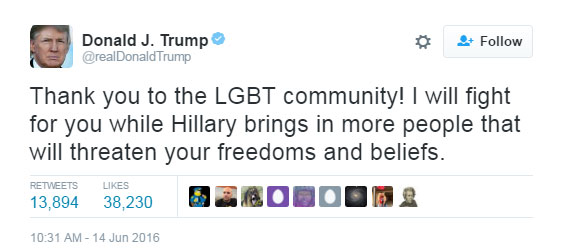 Why did LGBT people vote for Trump?
Lucien Wintrich, who was attacked for photographing models wearing "Make America Great Again" hats, says he's "enjoyed Trump ever since his feud with Rosie O'Donnell." His support for Trump initially came from being sick of "the snowflake mentality that many young Americans have; to claim oppression while working to oppress the voice of others."
The truth is Trump's position regarding Islamic extremism:
"We have a growing problem internationally with Islamic extremism. Donald Trump has for the first time called this out as an ideological problem, and placed it centre stage for discussion and debate.
A ICM Unlimited survey found, that a majority of Muslims in London want homosexuality banned, yet Hillary wants a 500% increase of Syrians in America.
Oddly enough, we are not allowed to say 'I really don't want sixty-five thousand people here who, statistically, at best, want me arrested, and at worst, want me dead.' The second you say that, people shout 'Islamophobia!'"
Finally Wintrich says "freedom" is the most essential aspect of his support for Trump, which he doesn't see as a priority with Hillary Clinton: "I want to live in a country where people don't trash cartoonists for drawing Muhammad, but embrace them for confronting a pre-enlightenment way of thinking. I want to live in a country where university students don't attempt to de fund their school newspaper because of an op-ed critiquing Black Lives Matter.
Paramount to all of this, I want to live in a country where constitutional freedoms are protected rather than persecuted. All of these issues I see a Clinton presidency only exacerbating, and a Trump presidency extinguishing."
Wintrich notes that Donald Trump has been consistently pro-gay throughout most of his career and only recently cooled to please the Republican base. However, he says Clinton "has always been a gay rights opportunist."
Christopher Barron, co-founder of GOProud and who was initially a Rand Paul supporter, but says he accepts that the party didn't go in that direction.
Like Wintrich, the central reason Barron supports Trump, and not Clinton, is because of the way in which each candidate deals with radical Islamic terrorism:
"Donald Trump understands the existential threat that radical Islam poses to Western civilization—and LGBT people in particular. Hillary Clinton and Barack Obama have sacrificed LGBT lives on the altar of political correctness, choosing instead to value protecting the feelings of Muslims over the lives of those radical Islam seeks to exterminate."
Barron also notes that Trump is a "repudiation of business as usual," which he finds refreshing:
"Trump, love him or hate him, does what he believes is right, what he believes is in the best interest of our country. He doesn't make his decisions after consulting the special interests and self-appointed leadership of the conservative movement."
He adds that Trump's new Republican tent will include "working class people, LGBT Americans, social moderates and libertarians."
Lastly, Barron believes issues like transgender restrooms and wedding cakes are a distraction from a much more serious threat:
"For LGBT Americans, this election is not going to be about bathrooms or who is going to bake our wedding cakes. This election is literally a matter of life or death. We are facing a threat from radical Islam that can not be understated.
Radical Islam seeks to exterminate LGBT people across the globe. While Donald Trump is committed to defeating these barbarians, Hillary Clinton is taking tens of millions of dollars from Islamic regimes that brutalize — and in some cases murder — their LGBT citizens."
Barron concludes that while electing Trump (whom he's been quite critical of in the past) may be a gamble, electing Hillary Clinton would put Americans in critical danger.
A Gays for Trump rally was held in a ballroom decorated with portraits of excessively young, lithe, nearly nude, white twinks in "Make America Great Again" baseball hats. Addressing the crowd were Islamophobic blogger Pam Geller and Milo Yiannopoulos, the tech editor of Breitbart who was most recently in the news after getting banned from Twitter for inciting racist abuse of Ghostbusters star Leslie Jones. Trump said: "I will do everything in my power to protect our LGBTQ citizens from the violence and oppression of a hateful foreign ideology."
There can be no bigger gay Trump supporter than PayPal co-founder Peter Thiel, who addressed the crowd at the RNC. A libertarian who has invested in life-extension science and established a fund to pay students $100,000 to drop out of college and start their own businesses, he told the audience, "I am proud to be gay.... I am proud to be an American." It was an extraordinary moment, no matter your political outlook, and it's that kind of gut instinct of Trump's—to invite a man like Thiel to address the convention—that resonates with many people. It may be hollow and insincere, but it's unlikely, even unthinkable, that any of the other Republican nominees would have gone there.
ARose research Team