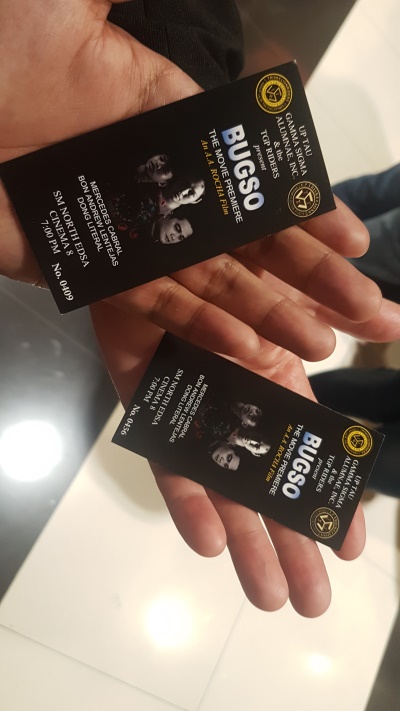 BUGSO: A Movie About HIV / AIDS Awareness
Never in my entire life had I seen a Filipino film that dealt with the topic of HIV / AIDS with so much emotion, depth and technical details.  The title of the movie is BUGSO, which means "coming in great numbers" in English.  And the title of the movie accurately describes the increasing number of people in the Philippines who are getting infected with HIV and AIDS.  And this movie had its premier for public viewing on the night of June 18, 2017 at SM North EDSA in Metro Manila, Philippines. The opening night was hosted by the director of the film Ace Rocha and were attended by the movies' actors and actresses.
The film revolves around three simultaneous stories of HIV / AIDS tragedies.  And all stories eventually intertwine with each other in a road accident.  And after that intersecting climax, each narrative would end separately with different conclusions.
The first story is about Vanessa (Mercedes Cabral), a migrant nurse working in Dubai so that she could save up for the medical expenses of a sick infant child who was left in the Philippines in the care of her husband Ken (Victor Neri). During a medical procedure where the medical staff were reviving a dying AIDS patient, Vanessa accidentally injected an AIDS infected syringe into her arm causing her to get infected with the virus.  Vanessa was isolated because of the virus and had only a fellow nurse Jam (Izella Agbulos) to support her.  Vanessa was eventually deported back home only to find out that her infant child is already dead and Ken is already having an affair with another woman. Vanessa had to live alone in a house owned by Jam only to deal with gossiping neighbours who eventually kicked her out of the neighbourhood after finding out she had HIV.  During an emotional rage where she was running on the street, she almost got hit by a motor biker who eventually hit a child instead. But instead of getting involved with the rescue, she fled the scene.  Vanessa went in isolation and eventually dies of hunger and the sickness.
The second story is about Nadine (Baby Martin) and his son Ivan (Bon Andrew Lentejas).  Nadine labours as a sexual worker at night to financially support herself and Ivan. Although Nadine uses condoms for protection, she performs oral sex during times she had mouth blisters.  Upon learning that she got infected, Nadine flees from society but leaves behind a letter to Ivan and advises him to get tested for the infection.  Upon learning that he was not infected, Ivan goes into an emotional rage knowing that he and his mother will forever be separated by the infection.  Ivan's emotional rage led him into a road accident with a motor biker.  Ivan together with the motor biker were brought to the hospital and both eventually survive. Ivan is then adopted by the childless couple who had been his supportive acquaintances. Twenty-five years later, Ivan becomes a medical doctor and his story ends with him giving lectures about HIV and AIDS.
The last story is about Harry (Dong Literal), a financially challenged single man who is a member of a motor bikers club who gets involved in multiple same sex relationships with financially wealthy men to support his financial needs. This idea he got from a fellow motor biker Lester (Kristofer King) who advised him that having sexual relations with wealthy men are safe because they are clean and having sexual relations with them would ease his financial burden. Because Harry got the notion that wealthy men were clean and were not prone to HIV / AIDS, he ended up getting infected for not using any protections during these sexual encounters.  After finding out that he got the infection, Harry goes into a violent rage and confronts Lester with whom he loses a fistfight. He then goes driving in his motor bike which led him into a road accident with Ivan after trying to prevent his bike from hitting Vanessa.  He and Ivan survive the accident and he eventually gets support from his motor biker friends, medical authorities and non-government HIV/AIDS awareness advocacy group lgbtBUS where there is a cameo appearance by the lgbtBUS CEO and I-Arose founder Thomas Fleckner and the lgbtBUS president Regie Pasion.  The story ends 25 years later with Harry together with his remaining surviving motor biker friends commemorating the memories of their departed motor biker club members.
This movie really reflects what is really happening when our society deals with HIV and AIDS.  It shows how the sickness destroys peoples' lives and their future if people involved do not know how to deal with this issue.  It also enlightens viewers how the infected persons really need emotional support in times of tragedies like these.  It reminds me of movies like Philadelphia.  But one thing that is different with this movie is the inclusion of technical statistical data graphics showing how the number of people getting infected with HIV and AIDS are increasing. Another thing that makes this movie unique are the scenes showing processes on how doctors work in determining how the virus is detected, where the scenes and the camera shots of blood being tested are so intense.  I really recommend this movie for viewing so that we can remove wrong notions about HIV and AIDS and to get more information and advise on how to deal with the sickness.  And hopefully, there would be more movies like this that would educate the movie-goers and would contribute to the removal of stigma against people with HIV and AIDS.
By Roderick Tubil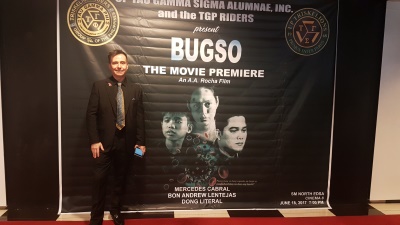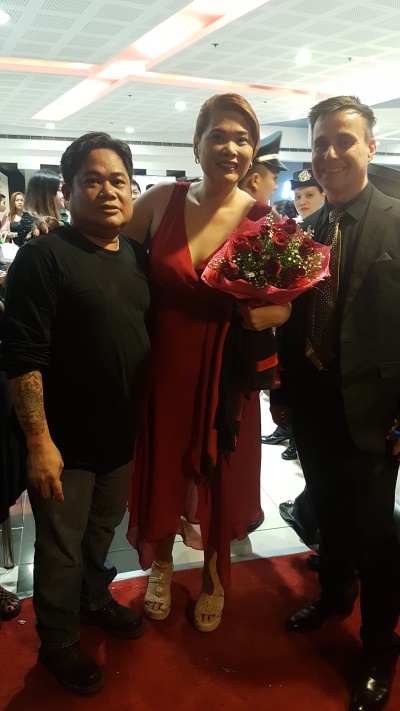 lgbtBUS President Regie Pasion, Movie Director Ace A. Rocha and CEO lgbtBUS Thomas Fleckner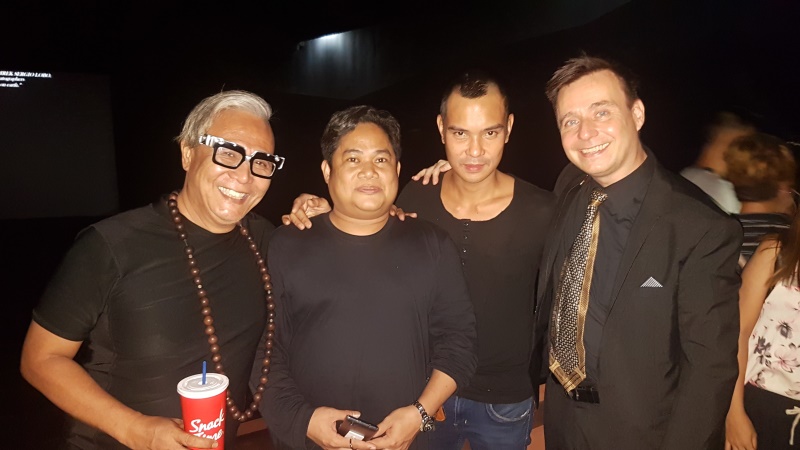 Filipino Artist and 'Dad' of Kristofer King Sunny Garcia, Regie Pasion, Int'l awarded movie actor Kristofer King and lgbtBUS CEO Thom as Fleckner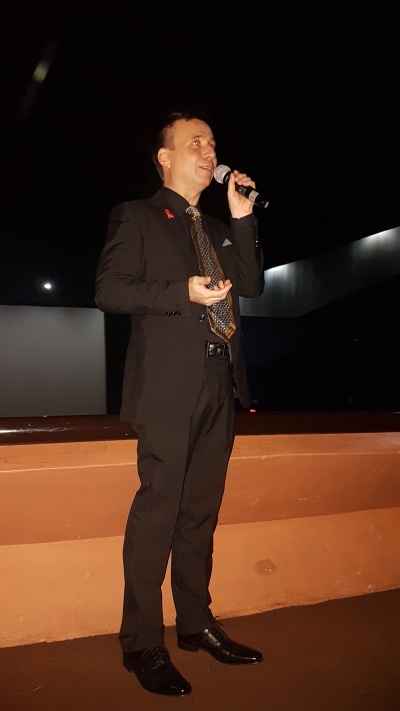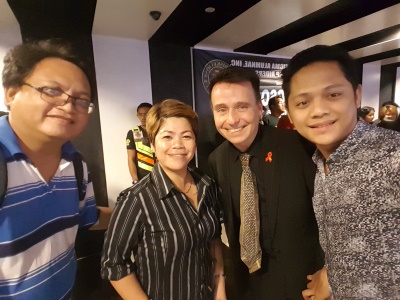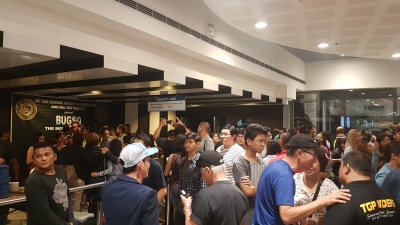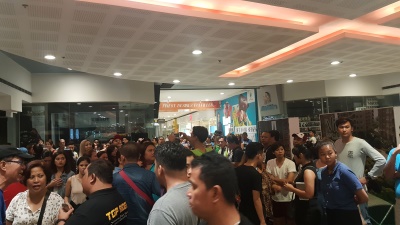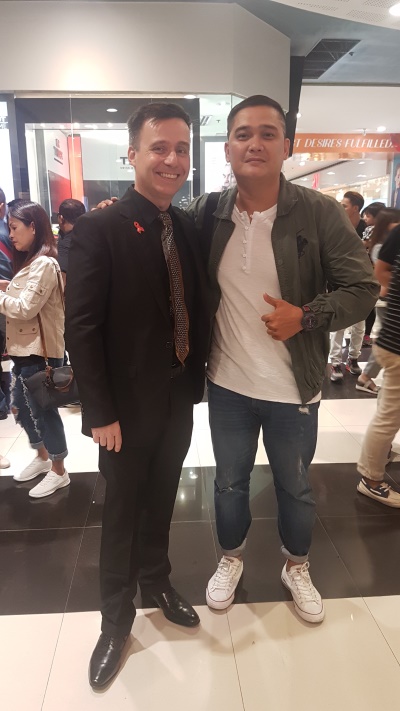 ... with lead actor Dong Literal
Exclusive scenes from the movie: