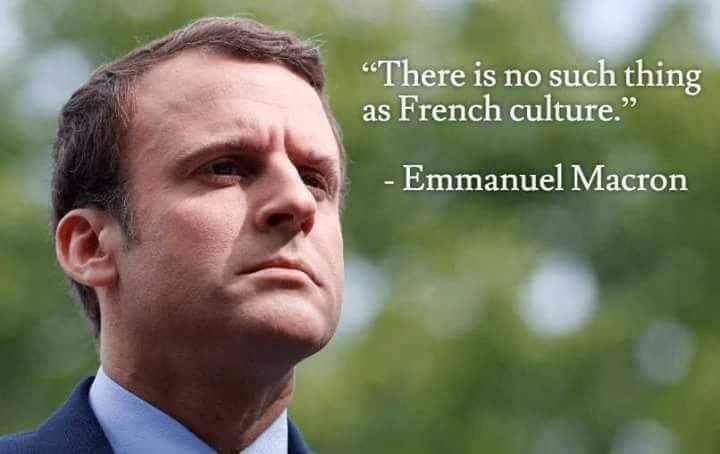 Macron, a wolf in a sheep fur
Macron is the new elected president of France. An outsider, a newcomer, without a party; so he needs to form a parliament. A smooth handsome looking 39 year old guy, that fits into societies wish for a perfect son in-law. Even when we start looking at what he stands for, the first three points sound worthwhile.
That means reducing the red tape and bureaucracy involved in operating businesses and countering the influence of the country's powerful trade unions.
Corporation tax would also be cut from the current 33 percent to 25.
The president-elect has promised a huge slimming down of the state budget, pledging to cut more than $65bn of total spending within his term.
But that's about where it all ends. A wolf in a sheep fur, a person that will bring more destruction to Europe and de-nationalising of France. And here it starts...
Mr Macron wants a common fiscal policy, a joint finance minister, a Euro zone debt instrument, and completion of the banking union.
What does this mean? More expenses for main contributors as Germany or The Netherlands. Not only are national banks responsible for other national banks and guarantee the savers inlays of 100000 Euro per person; now if his wish comes true, i.e. German banks will be responsible for Greek banks when collapsing, Dutch banks for Spanish banks and so on. Bail outs as for Greece will extend to a full guarantee package from European countries towards all member states.
Worse of all, Macron denies national identity of even French culture. He denied it in public: "There is no thing as French culture."
On immigration and asylum, Macron supports German Chancellor Angela Merkel's approach to the refugee crisis and wants France to take in its share of refugees, a share dictated by the non elected EU leaders.
His platform also emphasises the need to integrate those moving into the country, and his proposals include state-funded language classes for new arrivals. The problem is, and we know out of experience, that most people from the middle east are not even interested in the local language, but rather hold up their language of origin.
Macron has proposed the creation of de-radicalisation centres to hold returning ISIL fighters, in an attempt to rehabilitate some of those willing to re-integrate into society. What he doesn't seem to see, is that Islam never tolerates interference from non Muslims with their system, regime or doctrines!
His proposals also include shutting down places of worship that espouse "jihadist" ideology. Sounds good right? But according to people like Macron, radicals for just a tiny minority.
And so he continues; he would like to see fewer imams trained abroad, and instead would push for more Muslim religious leaders to be trained and educated in France. Aha, so he wants with other words educating Islam as a part of national activity and standard. Why import from outside, when France is already in the state to educate and preach Islam!
Macron supports the display of religious clothing in public places, but also supports allowing private companies to make their own rules with regard to religious dress. How generous! Where is the secularity here? The neutrality in public? Displaying religious symbols and dressing is a move further towards a visual divided society.
Emmanuel Macron is a "Useful Infidel", not that he supports Islamic terror, but he basically doesn't see the dangers of Islam. (Read also: Useful Idiot of Islam)
Finally we can be rest assured, that basically Macron didn't get more direct votes as Madame Le Pen. Millions of blank votes were given, and several votes for him were just marked, not in support for him, but to make sure Le Pen wouldn't win. We can be assured, that nearly all people who voted for Le Pen, voted for her and not out of compromise!
The Front National and Le Pen family have a 45 year history in the country, and have been growing stronger continuously. Having that said, and with Le Pen's daughter on the rise, we will see a longer future for the parties existence. It seems 10% unemployment and the Islamic influence if not yet high or strong enough to trigger the French peoples suffering or disturbance.
Mr Macron has been elected for 5 years; we will watch with eagles eyes what he will do, and if he will even politically survive the entire 5 years period.
With a steady growing Muslim society in the big cities and ignorant citizens in regard to Islam, Macron was tapping successfully from that voters group.
Geert Wilders, the leader of the Dutch PVV (Party for Freedom) offered commiserations to Ms Le Pen, saying she will win next time – and that he will too.
Nigel Farage said on the radio:"Macron offers five more years of failure, more power to the EU and a continuation of open borders. If Marine sticks in there, she can win in 2022."
By Thomas Fleckner