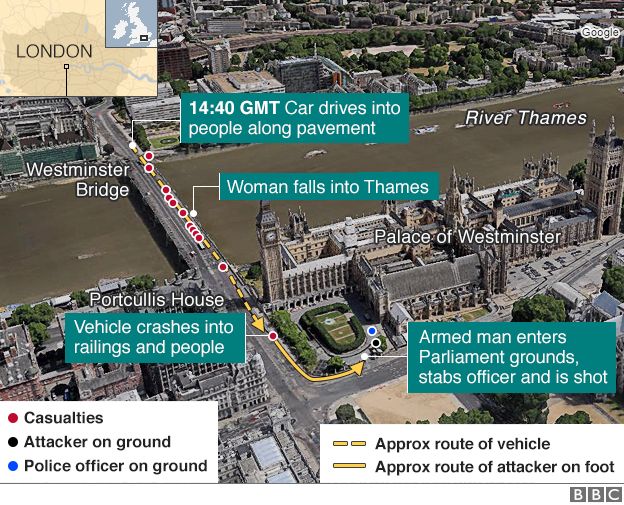 London under shock
Terror attacks are "part and parcel of living in a big city", London mayor Sadiq Khan claimed in 2016. Another package was delivered now again.
More than 40 people were injured in the attack that used a car to mowe down innocent people on Westminster Bridge. The death toll had risen to five, including the attacker, being shot dead after having stabbed a police officer Keith Palmer.
The mainstream media started to portray only the reactions fitting into the EU agenda, saying for example that Mr. Geert Wilders from the PVV in The Netherlands just retweeted the story without comment. A complete lie!
Mr Wilders said the following:
Update 21.05 – Geert Wilders : Mark Rutte huilt krokodillentranen over aanslag Londen
Krokodillentranen.
Vandaag in London morgen in Nederland omdat wegkijkers als Rutte de islam niet als oorzaak durven te benoemen. #lafaards https://t.co/l4n05jueoS

— Geert Wilders (@geertwilderspvv) 22 maart 2017
Translated to English:
Update 21.05 - Geert Winders : Mark Rutte cries crocodile tears about the attack in London
Crocodile tears.
Today in London tomorrow in The Netherlands
because people who look away like Rutte don't dare to name Islam as the cause. #lafaards https://t.co/l4n05jueoS
— Geert Wilders (@geertwilderspvv) 22 maart 2017
One of the worse things is that the attacker behind the terrorist rampage at the gates of the Houses of Parliament was a British-born man previously known to MI5 due to concerns over violent extremism, the prime minister Theresa May had said.
Meaning, if this person would have been dealt with prior to this terror, things would have come out differently; with a result of no attack!
By Thomas Fleckner