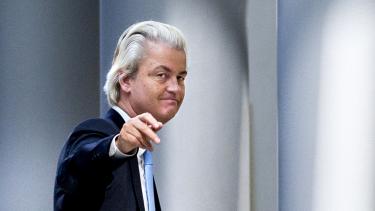 Geert Wilders and the falling mask of the left
Convex Kafka, a Dutch 'rapper', real name Bouke van de Vrugt, from the Dutch town of Deventer thinks that Geert Wilders, the leader of the PVV (Party for Freedom) needs more than 500 stones against his mouth.
Je suis Anne Fleur Dekker. Wilders verdient wat mij betreft wel meer dan 500 stenen op zijn smoel. Anne fleur was nog lief.
— Convex Kafka (@Convex_Kafka) 31 maart 2017
I am Anne Fleur Dekker. Wilders deserves in my opinion more than 500 stones against his mouth. Anne Fleur was quit nice.
— Convex Kafka (@Convex_Kafka) 31 march 2017
With this statement, he supports GreenLeft activist Anne-Fleur Dekker in her statement a good year ago: "Wie gaat er mee 500 stenen op Wilders gooien? Vind ik wel een 'ludieke actie." ("Who will come along to throw 500 stones at Wilders? I find it a playful act.")
This month, Convex Kafka stated that he consulted himself and, no didn't regret, but just said his expression was 'hypocrite' and 'impulsive'. He further stated: "Although I am surely not agreeing with Wilders, I am contributing to a divided society with this type of statements. That goes against my sense of justice."
This statement shows more or someone trying to save his image rather than regretting his statement, specially that this was not the first time he verbalised violence against Mr. Wilders. In February 2016, he said that for him, Wilders deserves a neck-shot.
Towards Convex Kafka and Anne Fleur Dekker, Geert Wilders has filed a report.
Geert Wilders is one of the most peaceful and outspoken politicians, who is even living in a safe house due to threats on his life. He is constantly campaigning to stop the islamisation of The Netherlands, and is supporting other parties of other European countries that see the same threat rising. He is therefore also one of the most threatened politicians.
On 10 November 2004, two suspected attackers were captured after an hour-long siege of a building in The Hague. They were in possession of three grenades and were accused of planning to murder Wilders as well as a fellow MP, Ayaan Hirsi Ali. The suspects were presumed to be members of what the Dutch intelligence agency, the General Intelligence and Security Service, has termed the Hofstad Network (Hofstadgroep). Since this incident Wilders has been under constant security protection. In September 2007, a Dutch woman was sentenced to a one-year prison term for sending more than 100 threatening emails to Wilders. In 2009, a rapper from Rotterdam was sentenced to 80 hours community service and a two-month suspended jail term for threatening Wilders in a rap song.
An Australian imam named Feiz Mohammad has issued a fatwa calling for the beheading of the Dutch politician Geert Wilders, as of 2010.
Geert Wilders is the living example how people who speak out against leftist protectionism of a threatening ideology, Islam, and Islam itself, will be under constant threat and even life threat. Both masks of the Left and Islam have long time fallen, but its kept up; still!
By Thomas Fleckner