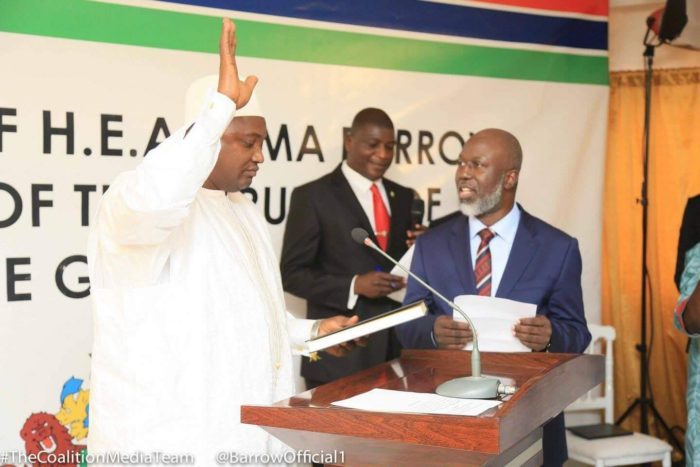 Inaugurated - Ousted and a new era
The 19th of December was maybe the most silent for The Gambia, as streets were deserted and tens of thousands Gambians had fled to neighbouring Senegal and Guinea Bissau, out of the fear of unrest. Next to the local moves, thousands of tourists, mainly from Britain, The Netherlands and Belgium were flown out on special flights. All in all The United Nations on Friday disclosed that more than 45,000 people have fled The Gambia this month.
Banjul, the countries capital assembled a ghost town, with shops close and the remaining citizens barricaded inside their homes. As the deadline of the presidents term stroke, nothing happened, and even the freshly elected president Adama Barrow had to take oath in neighbouring Senegal, at the Gambian embassy in Dakar. He left The Gambia several days ago for his safety.It seemed the 'no longer president' ignored all official acts.
ECOWAS troops stationed at the border then moved in but were halted on the 20th, to give Yahya Jammeh a final chance to leave.
Jammeh, the man who over his 22 years of reign squeezed the already impoverished country like a dry citrus fruit, milking millions and millions of Dollars for his personal use. His wife Zeineb Jammeh seen constantly on shopping sprees in the US, the nation the Jammeh's even own a million Dollars mansion, and yet the country, next to most western countries Jammeh insulted and accused of neo colonisation.
Yahya Jammeh was known for his iron fist ruling, unlawful killing, Human Rights abuses and threatening to kill LGBT people caught in the act. He also declared it a crime for landlords renting out properties to LGBT's. Next to being a president, he claimed to be able to cure AIDS, Diabetics and other sicknesses. He was obsessed with consulting marabous (local ....) and placing Islam on government level, declaring The Gambia to an Islamic state recently. Now it seems, that all his religious rites and statements, that he would rule for one million years if 'Allah" (The Muslim god) wished so, wouldn't work out. Adama Barrow, the new president said, he would remove the 'Islamic state' title from the country, and go back to the democratic secular status it was meant to have.
The Gambia has no industry, and at least 20% of the countries GDP depends on tourism. There is now hope, that the country will recover under the new leadership and Human Rights, secularism and freedom of speech may be respected again.
Yahya Jammeh came to power through a coup in 1994, and he was a military staff at that time. Adama Barrow is a civilian, who worked in UK as a security staff; and now he came to power through election.
Dressed in white, Adama Barrow took his oath of office in a short ceremony in front of a small group of dignitaries and his family. "There are no losers in this election," he said afterwards. "This is a victory for the Gambian nation. Power belongs to the people in the Gambia."
This is a day no Gambian will ever forget in one's lifetime. #NewGambia pic.twitter.com/pyyvG7GZ8g
— Adama Barrow (@adama_barrow) January 19, 2017
This is a victory of the Gambian nation. Our national flag will fly high among those of the most democratic nations of the world. #Gambia pic.twitter.com/QRGZg1gzbs
— Adama Barrow (@adama_barrow) January 19, 2017
Houses packed full in #Gambia watching inauguration. The feeling is indescribable #GambiaHasDecided pic.twitter.com/RDJQb2DC0A
— GambiaHasDecided (@GambiaDecided) January 19, 2017
As the final deadline approaches, Jammehs whereabouts are unknown. Some say he is still in the statehouse, but most likely he is in a hideaway as he was refused access to his farm in Kanilaio where he is claimed to have a bunker, escape paths and heaps of money. The deadline is noon, hence 12pm on Friday the 20th.
The stated deadline is being extended due to the Mauritania, Liberia and Guniean Presidents are said to be leaving the Mauritania capital now. It is now stated that Yahya Jammeh is still in the state house with lawyal state guards.
At 12.18 PM Gambia time news24.com writes: All set at the #Gambia now. As deadline clocks for Jammeh, aircraft just landed with Guinea & Mauritanian presidents. pic.twitter.com/os1PEwju9a
As the final deadline passed, Jammeh now asked for an extension till 4pm. It looks like he is slowly accepting his need to leave.
Finally:
Al Jazeera: Gambia's new president has said that Yahya Jammeh, who ruled the country for 22 years and refused to step down after losing the recent election, has finally "agreed to leave".
Writing on Twitter on Friday, Adama Barrow said Jammeh would also leave the country.
"I would like to inform you that Yahya Jammeh has agreed to step down. He is scheduled to depart Gambia today. #NewGambia," he tweeted.
#GambiaHasDecided
A person al footnote. I have been living in The Gambia from 2002 to 2009. The Gambia is truly a peaceful country, and people from different backgrounds were able to live next to each other. The people from Senegal and Gambia are basically the same, by ethnic group and history and culture, but have been separated through the border. Artificial enemyship has been created by president Jammeh. The country has an astonishing high percentage of freethinking people, who either follow old African traditions or are free of imported Christian or Islamic religion. Many of those people can be met at the 'palm wine ghettos' for example. It is of great relief to see, that The Gambia is "free at last", and that the difficult hand over of power went through bloodless.
By Thomas Fleckner