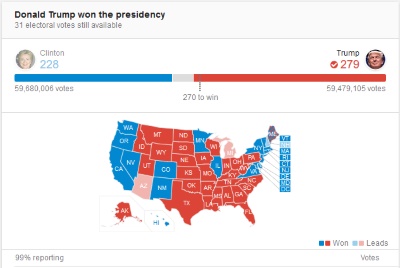 Trump wins the 2016 US elections - A neutral reflection
It is definitely an outcome many didn't think of. Donald Trump wins the presidency with 276 over 218 electorates. The Republican Party did not only win the US House but also the Senate.
Shortly after winning the elections, and his opponent Hillary Clinton congratulating him, in several places protests against Trump broke out across the US. Marches were observed in Oakland, Los Angeles, Portland and New York City.
Still, the American people have spoken, and as it is in democracy, the voters voice counts.
After the victory, Trump came forward stating that "... is time for us to come together as one united people".
The crowd won't let Trump speak, chanting: USA!
"Sorry to keep you waiting, complicated business," Trump says. "Thank you very much."
"I just received a call from Secretary Clinton. She congratulated us, it's about us, on our victory, and I congratulated her and her family on a very, very hard fought campaign. She fought it very well. Hillary has worked very long and very hard over a long period of time, and we owe her a major debt of gratitude to our country."
"Now it's time for America to bind the wounds of division... I says it is time for us to come together as one united people.
I pledge to every citizen of our land that I will be president for all Americans, and this is so important for me.
For those who have chosen not to support me... I'm reaching out to you for your guidance and your help so that we can work together to unify our great country."
Independent for what party people have voted; for the outside world, the choice of the American president is not really a big matter on the global scale, in its presence in the world. The US are and want to remain an imperial power, represented on all seas of the globe, and with the need to be militarily present at each corner of the world.
In regards to Syria and Russia, Trumps victory may have a positive effect. Trump does not generally declare Russia as an enemy, and the no fly zone, of which Clinton was in favour, wanting to implement, and may have led to an aggressive conflict between the US and Russia, is now off the table. Russia will be positive about that, as they favoured an outcome of the election for Trump.
In October moderator Chris Wallace from Fox News asked Clinton how she would avoid getting into larger war with Russia or Syria.
He asked: "If you impose a no-fly zone, how do you respond to their concerns?" Wallace asked. "Secondly, if you impose a no-fly zone and a Russian plane violates that, does President Clinton shoot that plane down?"
Clinton stuck to an argument she has made many times: Creating an area where Syrian and Russian planes cannot fly would give the U.S. "leverage" over Syria and Russia to negotiate a political resolution.
She said: "A no-fly zone can save lives and hasten the end of the conflict."
"With proper planning, the restriction could accomplish those goals without sparking a larger war."
"I am well aware of the really legitimate concerns you have expressed from both the president and the general. This would not be done just on the first day. This would take a lot of negotiation. It would also take making it clear to the Russians and the Syrians that our purpose here was to provide safe zones on the ground." Mrs Clinton answered.
First of all, what strikes here is 'making it clear to the Russians and the Syrians'. It gives the impression as if the US has the say over these nations, which is not the case. The second part before she stated that is that the no fly zone would save lives. Most likely it would result in the opposite, as the implementation is one sided.
All in all, Russia has been in support of the legitimate President Assad, and the USA not. We may question who decides about who is the leader of a country; surely not the US.
Trump yet stated with a choice between Assad and rebel groups, that Assad was preferable:"If they ever did overthrow Assad, you might end up with ? as bad as Assad is, and he's a bad guy ? but you may very well end up with worse than Assad," Trump said. He is right in this regard. Examples have been shown in past times, where power vacuums have come up, and chaos broke out. Libya is one of the best examples.
Syria became independent on 17 April 1946. Syrian politics from independence through the late 1960s were marked by upheaval. Between 1946 and 1956, Syria had 20 different cabinets and drafted four separate constitutions.
Hafez al-Assad died on 10 June 2000, after 30 years in power. Immediately following al-Assad's death, the Syrian Parliament amended the constitution, reducing the mandatory minimum age of the President from 40 to 34. This allowed Bashar Assad to become eligible for nomination by the ruling Ba'ath party. On 10 July 2000, Bashar al-Assad was elected President by referendum in which he ran unopposed, garnering 97.29% of the vote, according to Syrian Government statistics.
Important to state is, that Syria, although a Muslim dominated country, is a very rare example of 'secular state'.
As the US has been supporting opposition groups in Syria and wanted President Assad to be unseated, Russia remained an ally of the Assad regime. World peace would have been at stake, if the Democrats would have won the election, with the Republicans, the shift from war and endless Dollars spent on conflict, we may see a return to the negotiating table, with Russia on equal level and not stamped as a enemy of the West.
Vladimir Putin has sent Trump a telegram to congratulate him. The Russian president hopes for joint work to improve US-Russian relations, Russian media report.
Sergei Markov, a political analyst, was jubilant after the result. He said that a Trump presidency would mean more chance that the US would agree with Russia in Syria, and less American backing for "the terroristic junta in Ukraine".
He denied allegations of Russian interference in the election, but said "maybe we helped a bit with Wikileaks", according to the Guardian's Shaun Walker in Moscow.
German politicians slowly wake up to the fact. Speaking on German radio, Norbert Röttgen (Norbert Röttgen is a German politician of the Christian Democratic Union. He was Federal Minister for Environment, Nature Conservation and Nuclear Safety from 2009 to 2012.)said: "We're realising now that we have no idea what this American president will do if the voice of anger enters office and the voice of anger becomes the most powerful man in the world."
Adding: "Geopolitically we are in a very uncertain situation."
The sentence is interesting, and could be turned 180 degree in describing Angela Merkel. "We're realising now that we have no idea what this German chancellor will do if the voice of power hunger and ignorance enters office and the voice of power hunger and ignorance becomes the most powerful woman in Europe."
We may be left to decide what is better. Either an outspoken person, or someone who is acting with a hidden agenda.
The German defence minister, Ursula von der Leyen, said the emerging results were a "huge shock". She told broadcaster ARD: "I think Trump knows that this was not a vote for him but rather against Washington, against the establishment."
In a tweet Marine Le Pen's Front National has welcomed the results claiming they herald a new world. Marine Le Pen, who is running for president next spring, has long said Trump's politics were in French interests, congratulated the "free" American people.
Marine Le Pen
(@MLP_officiel)
Félicitations au nouveau président des Etats-Unis Donald Trump et au peuple américain, libre ! MLP
November 9, 2016
Hungary: Viktor Orbán, the hardline nationalist leader of Hungary, said Trump's victory was great news. "Democracy is still alive," read a post on his Facebook page.
Netherlands: The Dutch PVV leader and MP Geert Wilders expressed his jubilation after early wins for Trump.
Geert Wilders
(@geertwilderspvv)
Florida and Utah for @realDonaldTrump
The people are taking their country back.
So will we.
November 9, 2016
United Kingdom: Ukip's leader Nigel Farage hailed what he described as a revolution in America that has eclipsed the referendum vote to leave the European Union.
Nigel Farage
(@Nigel_Farage)
Looks like 2016 is going to be the year of two big political revolutions @realDonaldTrump. Would be bigger than Brexit! pic.twitter.com/jqANN6UU49
November 9, 2016
British Prime Minister Theresa May has released a statement congratulating Trump on his victory in the presidential election. She said: "I would like to congratulate Donald Trump on being elected the next President of the United States, following a hard-fought campaign.
Britain and the United States have an enduring and special relationship based on the values of freedom, democracy and enterprise.
We are, and will remain, strong and close partners on trade, security and defence.
I look forward to working with President-elect Donald Trump, building on these ties to ensure the security and prosperity of our nations in the years ahead."
Philippine President Rodrigo Duterte offered "warm congratulations" to Trump. Mr. Duterte "looks forward to working with the incoming administration for enhanced Philippines-U.S. relations anchored on mutual respect, mutual benefit and shared commitment to democratic ideals and the rule of law," he said.
Finally, speaking on Good Morning Britain, Piers Morgan (Piers Stefan Pughe-Morgan, known professionally as Piers Morgan, is a British journalist and television personality currently working as the US editor-at-large for Mail Online.) said: "Her political career is over. She's now twice tried to run for president, she was beaten by Barack Obama, she's now been roundly beaten by Trump."
Congratulations to my friend @realDonaldTrump - an astonishing achievement. #President
— Piers Morgan (@piersmorgan) November 9, 2016
Let me finally turn to the LGBT community and all that regards to it. LGBT issues are important for the sake of equality. But LGBT issues can't always be top priority. The West has come far on that issue, but the level of tolerance has gone far beyond the acceptable. Islam doesn't know Human Rights, but only men's rights if ever; so being tolerant towards the most intolerant system will rather hurt the freedom of the West than help it. Orlando is now being called the worst mass shooting in United States history. Donald Trump said this would happen and has called repeatedly for a complete ban on all Muslim immigration.
We should not forget that Hillary Clinton in 2004 announced her opposition towards same sex marriage: "I believe marriage is not just a bond but a sacred bond between a man and a woman. I have had occasion in my life to defend marriage, to stand up for marriage, to believe in the hard work and challenge of marriage. So I take umbrage at anyone who might suggest that those of us who worry about amending the Constitution are less committed to the sanctity of marriage, or to the fundamental bedrock principle that it exists between a man and a woman, going back into the midst of history as one of the founding, foundational institutions of history and humanity and civilization, and that its primary, principal role during those millennia has been the raising and socializing of children for the society into which they are to become adults."
Listen here on YouTube
America has to make a choice. Does it want LGBT rights, women's emancipation, and Freedom and Democracy; or does it want Islam?
One thing is clear; Trump is a business man who fought the race with his own assets, he opposes TTIP; Clinton is a full blood politician who represented the establishment, the establishment the voters were tired of. The presidency will be something new, so lets now sit back and observe the first 100 days after Donald Trump is being installed as the 45th President of the United States of America.
By Thomas Fleckner