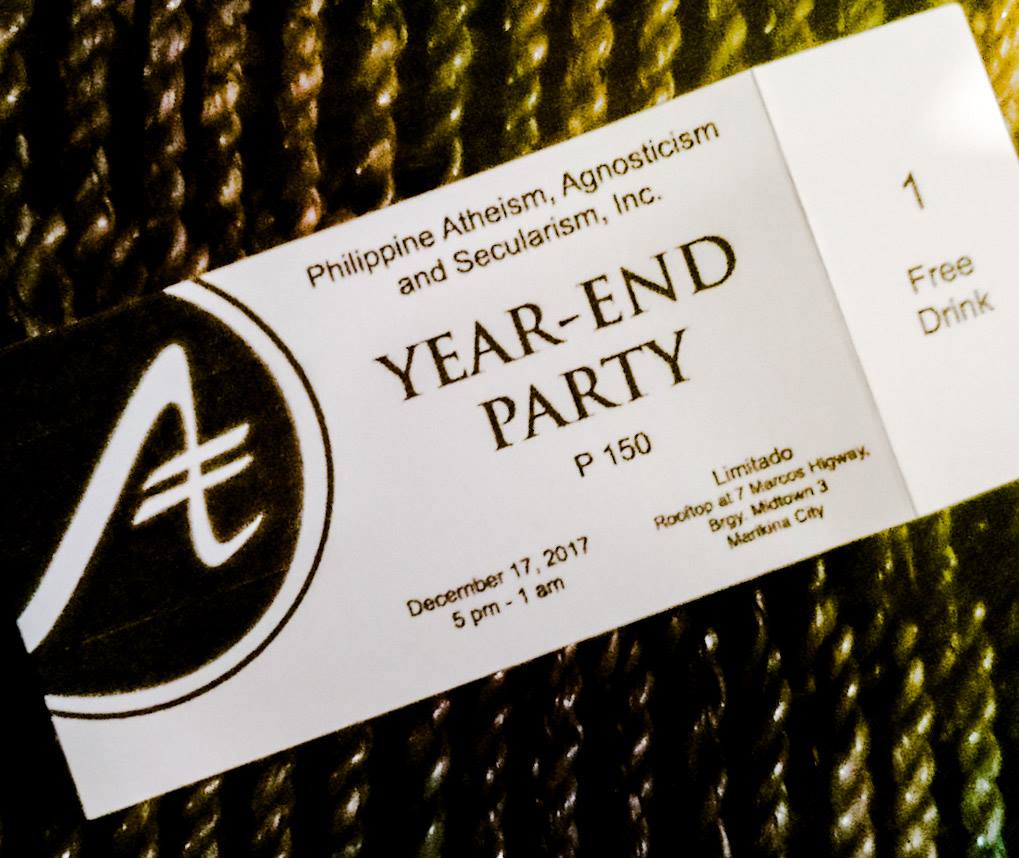 PATAS 6th anniversary
Age of Reason, reasoning amidst social reality
When writing about the PATAS 6th anniversary, we have to reflect on the idea and the origins of the short form PATAS. PATAS used to stand for the Philippine Atheists and Agnostics Society but was recently transformed to the Philippine Atheists and Agnostics and Secularists, making this the first year of its celebration.
This year's celebration was held in the well-known Conspiracy Café and Restaurant located in Quezon City. Many new and old faces mixed in this event; people from abroad and nationals, to remember the origins of reason, the organization and discuss its present and future.
Two speakers were invited, and they fitted their topics into the headline of the event.
First speaker was Thomas Fleckner, who took the title of the anniversary as topic, followed by Don Paez, who catapulted the guests thousands of years back to Socrates.
The first speech by Thomas Fleckner:
Age of Reason, reasoning amidst social reality
What is the age of reason? The age of reason was born, when people realized that explaining life, occurrences and natural phenomena could be based on sense, science ad evidence. Reasoning is therefor a condition loose from belief, doctrines and unfounded dogma.
European politics, philosophy, science and communications were radically reoriented during the 18th century and before (1685-1815) as part of a movement referred to by its participants as the Age of Reason, or simply the Enlightenment.
In our modern world, it seems that everything, from business to transportation, is progressing at an ever-accelerating pace. The Human Intelligence Knows No Bounds
What is social reality? Social reality is the condition we live in today, and if documented correctly, the condition and circumstances people lived before. Correct documentation requires evidence-based literature, and not made up stories, like we can find in religious books.
Yet: "The social reality as an expression deals with people's opinions and beliefs of the present time."
Next to social reality we have the following: Personal reality (this can vary from very personal views on reality till self-determined realities over adapted realities); Shared objective reality (not influenced by personal feelings or opinions in considering and representing facts.)
The age of reason gave sense and universal explanation to life, occurrences and natural phenomena, standing above the different mythical explanations religions in different geographical locations gave.
One other crucial point the age of reason taught us, was that reasoning never came along with punishment, that even wrong reasoning the later rectification and correction of the mistake only resulted in growth and prosperity. Whilst religions aim was to punish the critics, either on earth through countless torture methods, be it physical or psychological, or through invented afterlife threats like hell or limbo, reason was able to admit mistakes and allowed critics and improvement.
Where religion criminalized all opposition and critique under hate crime and blasphemy laws, reason and science kept on walking and developing.
As the years went on social reality changed, and with it its methods.
In 1811 one could be prosecuted for criticizing Christianity under the blasphemy laws, whereas in 2018 one can be prosecuted under hate crime laws for promoting anti-Islamic views, on the same grounds and country. This is where social reality comes in. Social reality is the pool of different influences: The present development of a society, political presence and government, education and the religious / non-religious mindset of the people.
The current Crown Prosecution Service (CPS) and police definition of a hate crime is: "Any criminal offence which is perceived by the victim or any other person, to be motivated by hostility or prejudice based on a person's race or perceived race; religion or perceived religion; sexual orientation or perceived sexual orientation; disability or perceived disability and any crime motivated
by hostility or prejudice against a person who is transgender or perceived to be transgender."
At first glance this seems to make sense, without reasoning though. If we start to apply reason on the stage of development we are currently in, we can see something drastically wrong.
The definition of hate crime does not include hate speech, so one can reason that it is not covered.

This definition throws together natural and unnatural terms under the same offence. Whilst sexual orientation is natural, and can be observed in any society, under or with any religion and among any race or political system, religion is an unnatural construct that can be adapted, laid off, changed or mixed even. So how can criticizing, opposing or even verbally attacking (ridiculing) inventions be measured the same as discriminating a race, a gender or a sexual orientation?

The final question is: Why is it a crime to criticize anyway, when on the other hand there is freedom of speech and expression?
The problem is that hate speech has no universal definition. The truth is hate speech to those that hate the truth. To suppress the truth spoken by others they then create the hate crime.
The attack on freedom of expression is inconsistent when it comes to religion. Criticism of Islam is considered to be more offensive than criticism of any other religions, even Judaism, which is astonishing, having laws against anti-Semitism. Islam has created its very own protections under hate speech, they call it Islamophobia. This is a term that was invented by Iranian fundamentalists to silence criticism of Islam. Any negative comments about Islam are usually met with this label, as an effortless way to shut down logical and reasoned arguments. This is particularly in social media, where criticism of Islam frequently results in users being banned.
And again, we can reason, because phobia is an unfounded fear towards something. We just need to view our history and observe the many lives religion has taken, destroyed or ruined.
Being able to criticize all religions is the basis of freedom of expression, especially in a secular society and amidst social reality. We should be free to mock, criticize and even ridicule religion, because it is neither racist, xenophobe nor a sexual discrimination.
The Age of Reason is a book written by Thomas Paine. He writes the following: "The most important position is the call for 'free rational inquiry' into all subjects, especially religion." Christopher Hitches often cited Thomas Paine too.
Reasoning amidst social reality is something that needs to start at school level. Children are curious, yet also take for grated what their parents and teachers tell them. Sadly, religion is still taught in schools as if it were real, and not a historical period where people just didn't know better.
As Atheists and Agnostics, we have the obligation to carry out reason, more than anybody. We cannot defend reason, and then follow or accept religious practices, just because we think it is a social obligation.
Social reality was extremely local in the past, and with that advantage, religion was able to control society, and give no further reason to reason. But with the new age explorers, the internet and the growth of knowledge through education, we have seen that the past social reality isn't as real as they have sold it to us, ad that what is real is universal and what is not local.
The social reality is that we are diverse, naturally different. Our things in common are happily agreed upon, not through force, threat or punishment, and of course through natural realities.
Our social reality is yet also that we have been shaped and formed to fit, that we are told to be punished or doomed if we don't believe certain things; and what is most sad, that even the ones that don't believe still too often accept the belief system as social obligation to keep family, community or friendships in takt.
The truth is, there is no development without sacrifice, struggle or change; and the question is, if a loss can be an enrichment and for the better.
Yet when reasoning stops, or even just stays behind closed doors, humanity loses for the worse.
Thomas Fleckner stood for the usual questions and answers yet held a three-question quiz after his speech. He gave out three original PATAS T-Shirts as prize.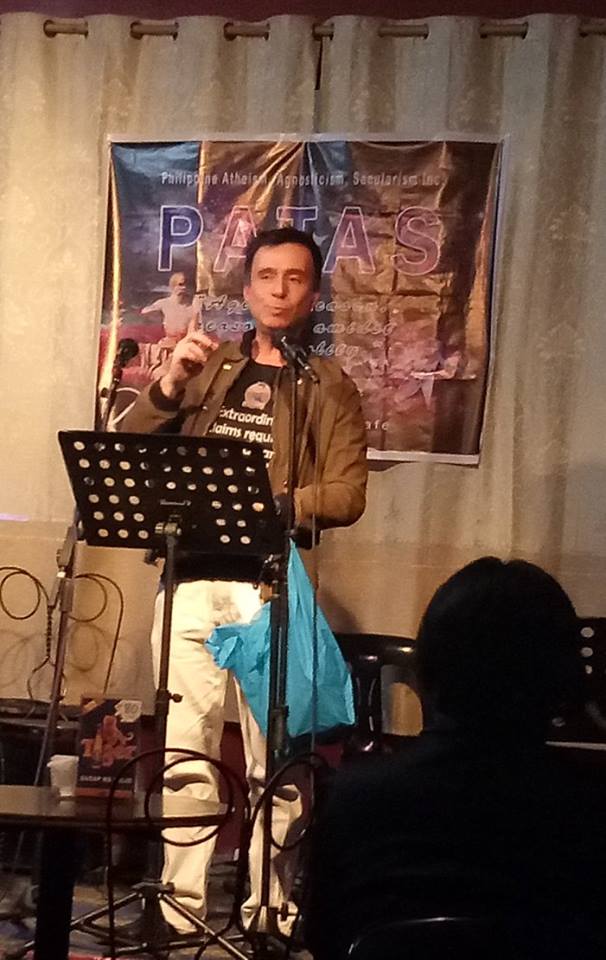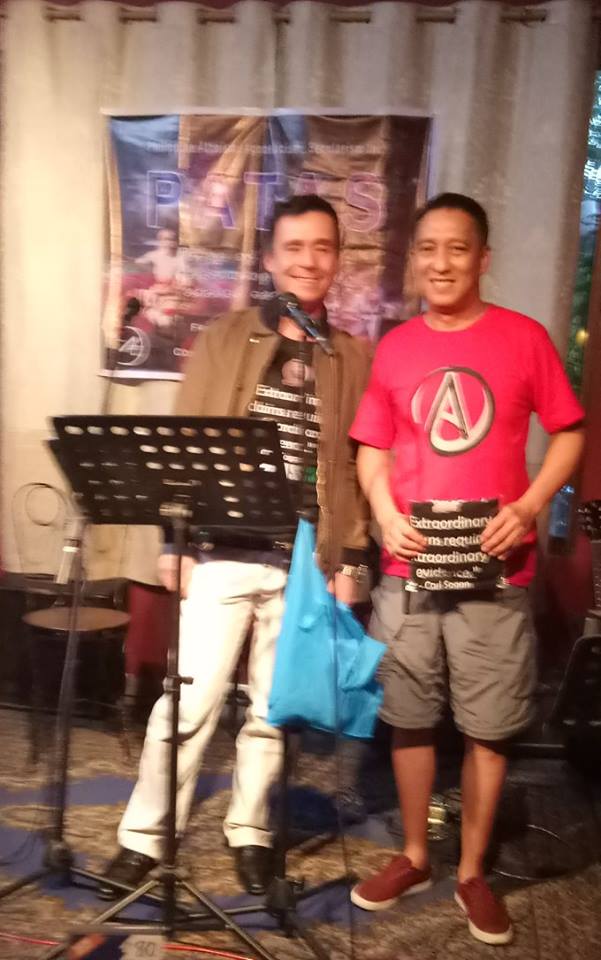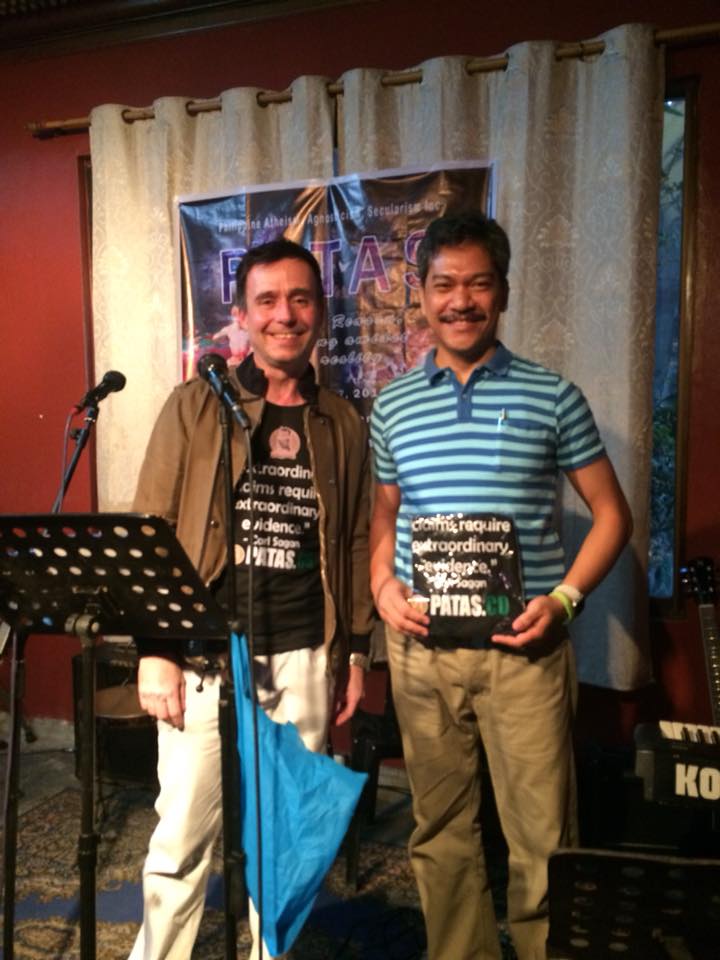 The second speech was given by Don Paez, who is also well known to the community, and who was active as an officer in PATAS before.
Socrates 470BC Stonecutter and soldier by profession, father cut stone for the Parthenon Married to Xanthippe "By all means marry, if you get a good wife you become happy. If you do not, you become a philosopher. Retired and became a teacher Plato was his most famous student Did not write anything. Mostly known through dialogues of Plato, Xenophon, Aristophanes. Mostly known by "Socratic method" Basis for scientific method of elimination of hypothesis. Also attributed to be author of the saying "a life not examined is not worth living" Apology "Wisest man" title came from Oracle of Delphi who said "there is no one Wiser than Socrates" Socrates took as a riddle because he always proclaimed to be ignorant. He interviewed Athenians about their knowledge and concluded most did not "know" what they were talking about, since most of what is considered knowledge is opinioned belief, including love, justice, beauty, etc. He compared himself to a gadfly, always stinging a horse so it could not be lazy. Socrates concluded superiority in only one aspect: knowledge of one's ignorance.
Socratic method as a dialogue with a series of questions testing for consistency, and ultimately arriving at new information for both parties. Unfortunately, most are not ready to accept their own ignorance Republic Allegory of the cave / matrix. Shadow demonstration. Veil of ignorance Socrates was charged with corrupting youth of Athens and being atheist. Brought to trial and represented himself. Sentenced to death and suggested he be given pension instead. His disciples planned an escape, but he declined citing that as a citizen his duty is to follow Athenian laws. He was given hemlock to drink and did so willingly. To his followers he said: "To fear death is to think ourselves wise when we are not. To think one knows when one does not. Death may be the greatest of all blessings, but men fear it as the worst of all evils." With those words, Socrates breathed his last breath, and the world lost one of its great thinkers. He was 70 years old.
Takeaways 1. Know the limits of your knowledge and push further by learning as much as possible. Claims to "truth" can and must always be questioned. Even those which agree with our biases. That is the only way we learn and discover truth. Stone cutting analogy. In the age of information, ignorance is a choice. In the age of fake news, it is our obligation to find and promote the search for truth. A philosopher is not a wise person but simply a person who loves wisdom. 2. Some people are not ready to accept truth, no matter how much it is forced upon them. Best to let them mature at their own pace but be there to help by occasionally feeding things to think about. Used properly, Questions are more powerful than statements. When everyone is talking, listen and ask. 3. Ideas are powerful, and some ideas can immortalize us. Rationality is what separates man from animals, and plants and minerals. It is important to constantly develop our rational faculties since it is what gives meaning to our existence, and possibly despite any form of pressure that society places on us, it is the only context in which we are able to truly be free.
The only life worth living is a life properly examined.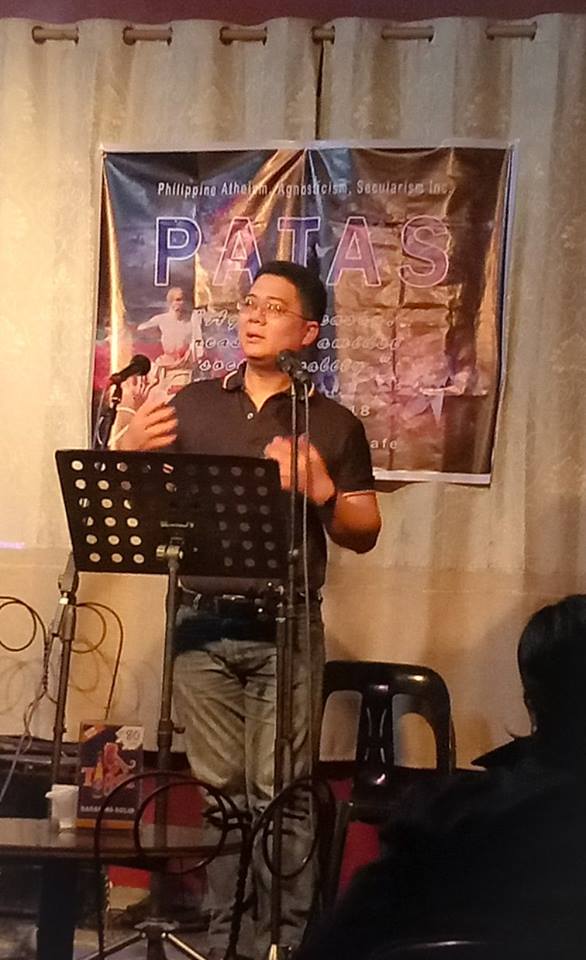 The event was followed by personal remarks, poetry and music.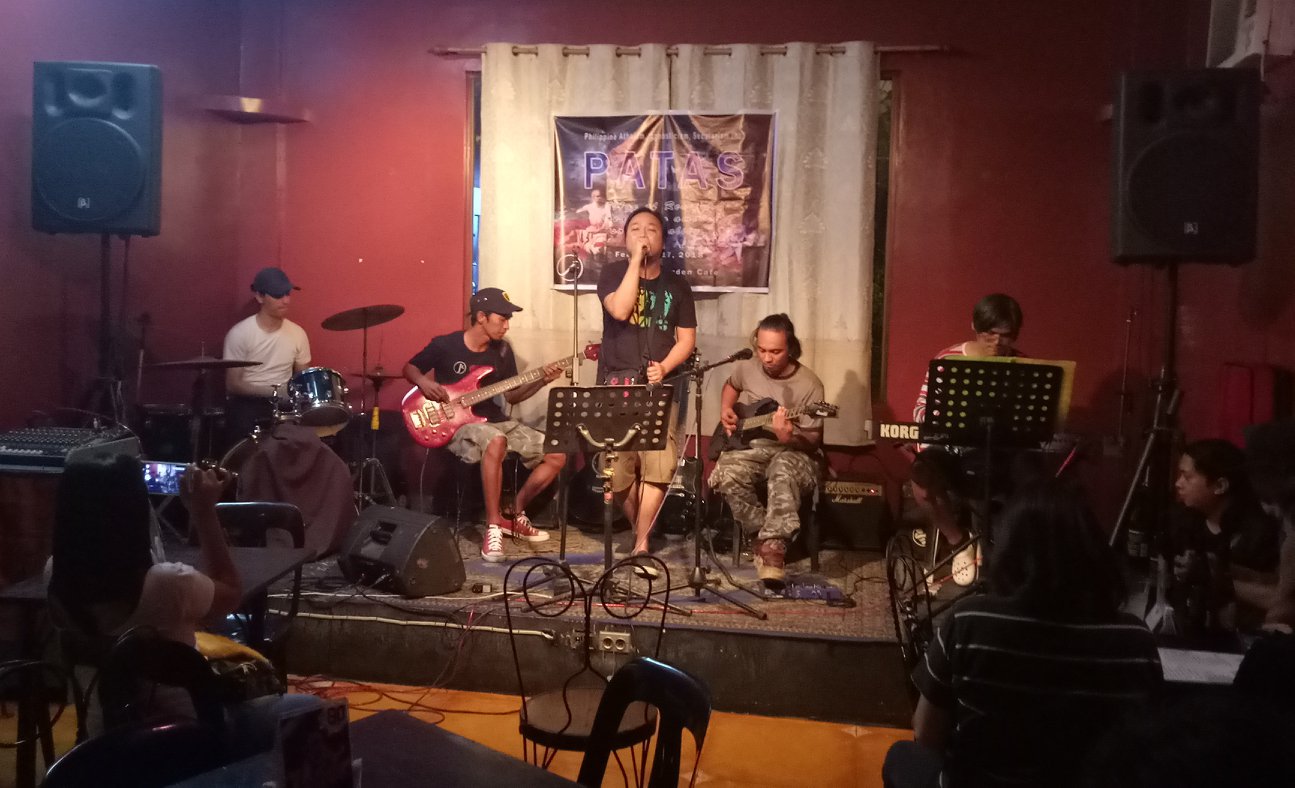 A big cheers to the continuous promotion of reason, non-religion and critical thinking in The Philippines.