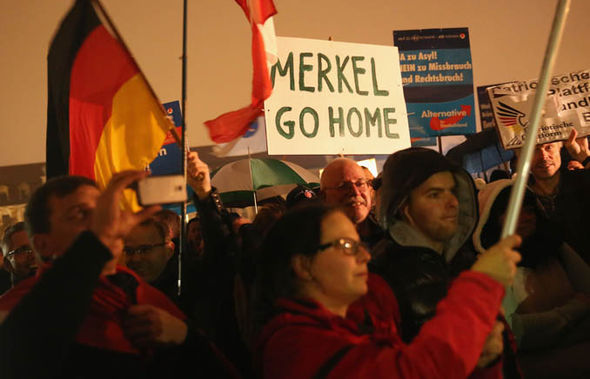 German elections countdown to the known. But....
With all means the present government and the main stream 'leftist' tendentious media has done all to suppress or even blend out all positive aspects of the only present alternative party in Germany, the AfD (Alternative for Germany). As they definitely were successful to a certain degree, manipulating the either uninterested, or brain washed population of Germany, the power of the internet, and access to other neutral TV channels have kept a large minority of people awake and informed. The short but yet powerful and important talk shows, where AfD politicians were invited sent some waves through society. Finally, the obvious braking of national laws by Angela Merkel, through implementing the open door policy, letting in hundred thousands, yes millions of illegal migrants into the country, tapping into Germany's social welfare system and causing billions of Euros extra cost, whereby schools, roads and bridges and the own unemployed national citizens are swept aside.
Latest polls see the AfD at 7 to 10% of the votes in this month's national elections, giving them was to occupy seats in the German parliament. The rise of the new centre right, which the main stream media insults as far right, is not a German phenomenon, but has already been observed in The Netherlands, through Geert Wilders PVV (Party for Freedom), Marine Le Pen's Front National in France and UKIP in UK.
The trend to more self-standing and deciding has been marked through BREXIT and the conflict of inflowing Muslims into the secular Europe.
The AfD was founded in 2013, starting as an Eurosceptic party, but then evolved into a movement against the "Islamification of Germany" through uncontrolled Islamic influx. It underlines its stance through the fact that only a minority of roughly 10% came from the war regions of Syria, all other entered as economic migrants from other Muslim Middle East countries and Africa.
Germany is known to have a more moderate population, where conflict and 'going against' (unless is left) is shunned; but yet there is a silent percentage of people who support and will vote for the AfD, without voicing it out in public, just to avoid issues at work, within the family with friends, or even violent attacks; a sad development for a country that stamps itself as democratic.
However, and again; the group of people that want their country protects, culture preserved and freedom upheld is not small. The Dutch party PVV ended at second place during the Dutch elections this year and the French Front National gained tremendously during the elections.
The AfD is most likely to have seats in the German Bundestag, and therefore have the chance to form a 'real' opposition; something the Germany government needs. Angela Merkel, over the years, was very successful in forming an unofficial 'bloc party', just as she knew from her former GDR upbringing. We can ask ourselves; whoever one votes for, one gets Merkel; and whatever a party stands for, Markel's CDU stands for it too, even in a way. Latest issues were the vote on same sex marriage, where Merkel stroke master plot. She opposing the law, but knowing it would pass one day anyway, with the Greens and the social democrats having it written in their party programs, Mrs Merkel called for a vote in parliament. Having that done, she told everybody that she was against it, saving her face. On the other hand presenting her as democratic, but letting the vote decide, and lastly taking away one important point in the other parties reasons to be elected for. This was also a fake liberal move, moving attention away from her real migration problem and the Islamisation.
This decision shows how hypocrite she and the main stream is actioning. 
The creation of an "illusion multi culti society", seemingly tolerant country towards all is bound to a great downfall when continuing this way.
Being tolerant towards the intolerant, equalising natural biological facts that don't destroy with chosen belief systems which aim to destroy and take over, and openly bringing down national identity, culture and democracy is more than just a trait, its a crime against society.
With all this said and all the horrible actions against the country, even with all the continuous branding of the AfD as populist and far right, even extremists or Nazis even, the Alternative for Germany has managed to cling on and grow, as labelling does not reflect the truth of the party.
Both Angela Merkel as well as Martin Schulz (Present chancellor candidate for the social democrats SPD) have branded the AfD as 'racist'. Mr Schulz said: "We must do everything to ensure that such racists don't enter the Bundestag!"
Its hilarious in a way, that seemingly grown up people still don't know the meaning of racist. Being against Islam or the islamisation is neither racist against a group or an individual, as religion is not a race. When it comes to opposing Christianity i.e. the word racist is never used.
When the AfD will end up third strongest party as forecasted here (http://www.t-online.de/nachrichten/deutschland/bundestagswahl/id_82032382/wahlumfrage-afd-gewinnt-union-und-fdp-verlieren.html), a new opposition era will be opened and one of the first steps that will be taken by the party is a no-confidence vote against Angela Merkel for braking the laws, by opening the borders to all.
Another important point when exposing Merkel is her way of doing things. She is silent and takes no specific opinion, waiting for the trends and last moment decisions to either weaken the opposition or project away from the real problems she faces. Opposition is what she doesn't want or like, so instead of opposing, she embraces. Examples are the step out of nuclear power, a Green party fight; betterment in social welfare and workers' rights, a social democrats fight, and the liberal approach towards businesses with less government interference, a Liberal Party stance. But next to embracing and swallowing other parties programs she also lied, silently but obviously! The worse thing about it; she lies but the German citizens seem not to care or mind.
Angela Merkel: "All specialists from Africa and the Balkans are very welcome!" Yes, Germany has an enormous skilled labour force need! We must make even more propaganda in Africa and the Balkans and create even more incentives to get a lot more young people to Germany - engineers, doctors ..."
Interesting statement and a lie within. Where is the skilled labour there? The standards from those countries were never accepted in the West. Where is the invitation towards countries that fit, like South America, Asia or Russia? This is not an invitation for the skilled, but with the aim to bring down standards.
The so-called "specialists" from abroad, who now generally only have the title "refugees", can almost all not speak German, represent the interests of Islam - and have largely no interest in integrating themselves.
They now burden the social system of Germany at the expense of the taxpayer, and at the expense of the local population in general. Yet the social system of Germany must support it, the law dictates it. We must ask ourselves who the real winner or gainer is, and who the loser.
2013 September 1, 8.29 pm: "There will be no private car toll with me." In March 2015 the Bundestag and on May 8 2015 the Federal Council voted for the car toll the law.

2013/2014: Merkel thus made an election campaign and propaganda that there would be a so-called "no-spy agreement". But such an agreement has never been offered or agreed with by the US at any time.

2010: Merkel considers multiculturalism "absolutely failed" (https://youtu.be/BE6dR7T-zIQ). In 2015, she does the opposite buy opening the doors to millions of fake refugees declaring them to be in danger.
More here in the Washington Post: https://www.washingtonpost.com/news/worldviews/wp/2015/12/14/angela-merkel-multiculturalism-is-a-sham/
"Multiculturalism leads to parallel societies and therefore remains a 'life lie,' " or a sham, she said, before adding that Germany may be reaching its limits in terms of accepting more refugees. "The challenge is immense," she said. "We want and we will reduce the number of refugees noticeably."
The present actions are a 180 degree U-turn!
2009: Merkel wrote in the coalition agreement that there will be a lower, fairer and simpler tax system. Today, Germany still has a complicated tax system and pays billions for non-national interests.

2012: "Chancellor Angela Merkel concludes Eurobonds..." it says continuously in the propaganda. In the meantime, Eurobonds have become a global player on the bond market, as can be seen in the ESM website (http://www.esm.europa.eu/investors/index.htm).

2008: Merkel said, that in the future no bank could be so large and system-relevant that the states could be blackmailed by it. Today, almost all banks are even bigger than then.

2008: Merkel and Steinbrück: "Savings deposits are safe". The safeguarding of all savings would greatly exceed the federal budget. A corresponding parliamentary legitimation never existed.

2015: Merkel always rejected a debt cut in the negotiations with Greece, but now it happened, nevertheless.
It is important to realise, that Merkel is not acting in any way in the interests of the German people. She is acting as a world globalisation leader, and it's obvious. Barack Obama passed on his mantle to Angela Merkel, not to his successor Donald Trump; this may be more symbolically of course, as Merkel is not the president of the US, but she was the puppet player of the former president, proven by not hardly condemning the spying of the US on her and the country, and allowing the US to fly deadly drone attacks from Ramstein, a city in Germany, hence from non US territory.
(More here: http://www.independent.co.uk/voices/angela-merkel-donald-trump-democracy-freedom-of-press-a7556986.html)
Remains the hope that Germans vote wisely during the upcoming election, giving re-birth to democracy in Germany, by creating a strong and constructive opposition. Creating a new government may sadly be too much wishful thinking at this stage.
By Thomas Fleckner